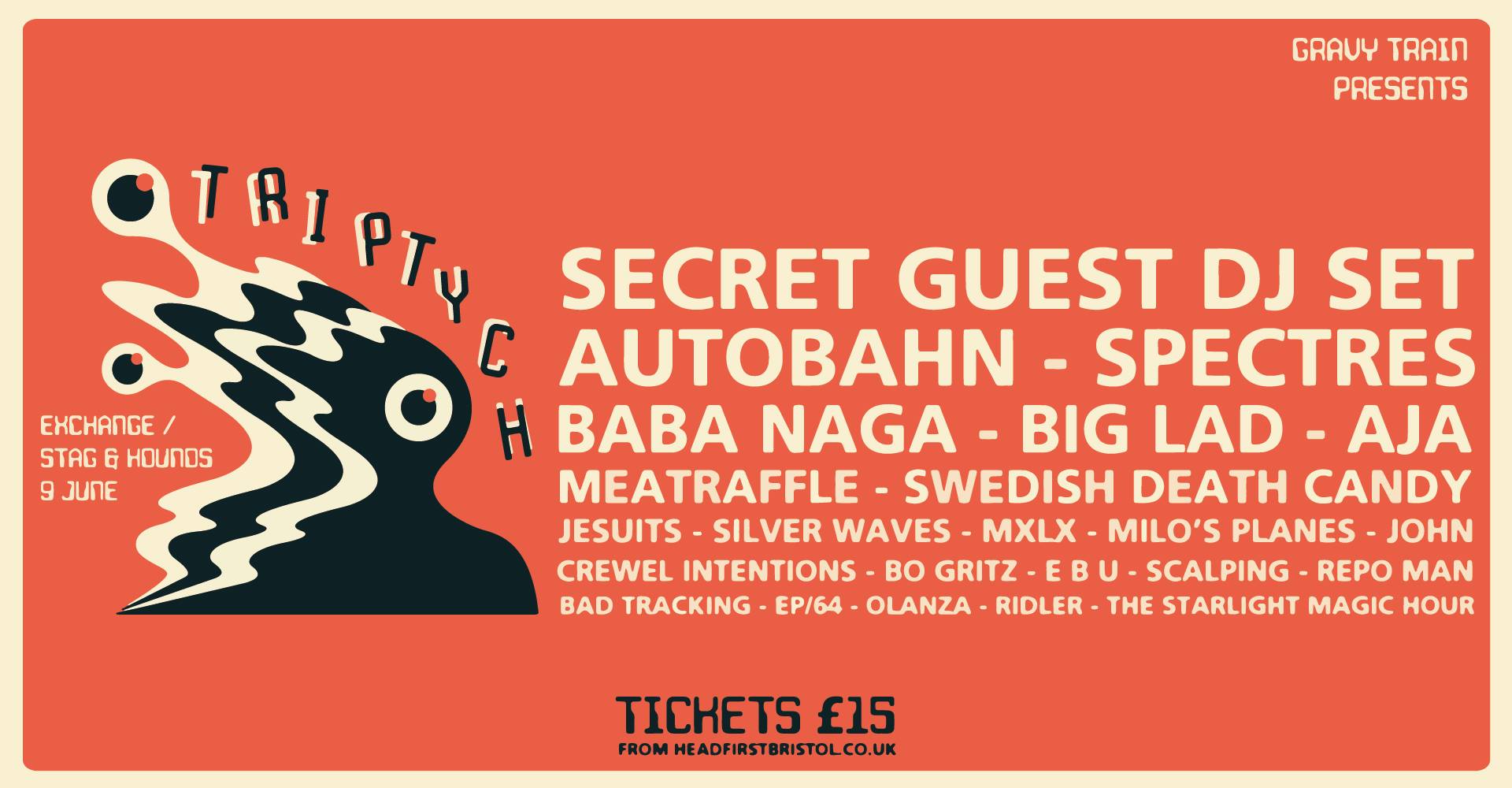 In the beginning,
There were three excited individuals who had tickets to a 12-hour hootenanny in Bristol that provided a rich palette of sounds ranging from the recognisable and expected to the jaw-dropping and terrifying. This was a no holds barred event that spanned the best bits of the musical venn diagram, With 23 performances scheduled across three stages in two of Bristol's finest venues we knew that it was going to be a blowout and blowout it was!
Arbiter Titan had convinced our Attorney to join us some weeks ago and had been gently adding coal to the fire of excitement by sharing videos of certain bands that had caught his eye. As per usual I maintained my policy of going in 'earblind' and avoided all such videos at all costs. In the coming days before the gig The Attorney made a half-joke about The Arbiter preparing itineraries for us and knowing exactly where we needed to be and when – in short, we didn't need to worry about a thing. This was the third night for us this week and so far the bar had been set high, we had had Crack Cloud on Monday, WarmDuscher on Thursday and now it was time to go out in style with as many bands as we could get around!
The day finally arrived and truth be told I had a banging migraine Saturday morning, I was suitably livid and drugged myself up and went to hide in a corner until the latest possible moment that I could leave, eventually and still somewhat unable to operate my human body I gathered the rest of the party and we set off to Bristol excited, apprehensive and suitably equipped. True to The Attorney's comical prediction Arbiter Titan had indeed prepared us handy pocket sized itineraries of all the bands and had a mental list of where and when we must be in order to enjoy the most music possible.
Upon arrival we took the time to get some drinks and enjoy some light confectionary to set the mood for the long night ahead, the weather was warm with a calm breeze and there as a bustling crowd of fellow music lovers sat outside the Exchange that provided an inviting and pleasant atmosphere.
When we eventually decided to check things out the first band we caught were;
An array of smart dressed gentlemen donned us with a raw take of Americana fused church-house indie rock, it was a real amalgamation that followed on so well from WarmDuscher, it was as if we had never left. The energy of the set grew more and more into a sixties infused garageband direction with throaty and desperate vocals and rich valvey guitar. The occasional use of piano and organ provided a deeper soundscape to a group that had the capacity to sound like they were genuinely lifted from the sixties and planted right in front of you. Overall it was a great set, especially to get us into the swing of the evening, it was also nice to see them stick around for the entire night and enjoy themselves!
After their set we headed on over to The Stag & Hounds where I was able to catch some
A trio featuring two well-kept moustaches and a long-haired drummer who really lets team moustache down (I jest) I walked in on them mid-set and instantly gravitated towards the sharp, jagged corners of the industrial scale machinery sound that they were generating in the corner. It took me right back to when I saw Housewives open for Parquet Courts and I loved it, a sort of anti-playing that almost parodies post-punk and industrial minimalist type stuff whilst remaining in itself, brilliant. It reminded me of when the fire alarm used to go off in school on a drill, it was almost unbearable to listen to but within it was a calming rhythm that you could lock onto like a lifeboat during a major shipping disaster, the chaos can go on around you but you've found a safe place. I really hope I get to see them again soon!
Just as I had become acquainted with their level of output I was whisked away by the party upstairs to a wood-cladded room sprinkled with Chesterfields. It was like I was at an old posh uncle's party and he had told us that his niece was about to perform in the billiards room so we all had to sojourn there. In fact, I do hope there's a posh uncle that can one day introduce the next act that we caught which was…
A total contrast to what I had just witnessed downstairs and indeed what was leaking through the door, trying to lure me back 'No Bo Gritz I must see this act!' 'No, come join us Duke, come enjoy our thrashing noise' – ARRRGHH – I resisted. If anything the intermission would help level things off… relax. What took place before us was an ethereal and surreal experience, a small human lady was concocting a variety of motions akin to a tree in the wind to an electrical narrative of soothing layers and innocuous plonkings as she manipulated her voice to mimic that of a demi-god or forest demon. There was a strong fantasy element to the sounds and sights before me that made me think of an endless ancient woodland in which I was free to explore and make friends. It was like finding an oasis in the part of your brain that appreciates music, a place to sit down and unwind with mystical creatures and wood-nymphs before exposing yourself to the harsh desert occupied by nomadic guitarists and dastardly noise makers.
We took in all we could before relocating to the Exchange again in anticipation of the next act who we had all earmarked as one that we had to see…
Holy fuck balls! The Arbiter had slipped up and played me one track by S.D.C prior to Triptych so I had some idea of the sound that they produced but that little teaser failed to prepare me for the psychedelic journey of progalicious tunical adventure with an absolute maniac of a bassist, a real magician that bandied around the stage absorbed in the sheer funk that he was so easily creating with his dancing fingers. Everything was on fire and the buzz I was experiencing was perfect, the pace never dropped during their entire performance and they didn't miss a beat. They had a real energy about them with a sound that wouldn't be out of place at Woodstock if someone were to invent a time-machine just for bands (to go to Woodstock…) they were explorative and exciting and well worth many repeat listens.
We decided to stick with the acid-guitar action and stay around for…
Arbiter Titan is stepping in with his words for these guys… just let it be known I thought that it was like taking a ride on Satan's lasertag rollercoaster (and I mean that in the best possible sense)
This bands name, referencing Indian Shamans who show their spiritualism through nakedness,
immediately conjures up images of eastern psychedelia and exoticism and they certainly deliver
(minus the nakedness thankfully)
Driven onward by a heavy, ominous, rolling, engine like rhythm section, the guitarist effortlessly
weaves his way over the top, playing intricate motifs which, if you let them, will carry you away to a
place of heady beauty only for you to be awoken and pulled back to the here and now by a dark,
doom laden riff battering your senses, a feeling only exacerbated by the effect laden chant like
qualities of the vocals
This rollercoaster of emotion makes for an alluringly unnerving ride, taking you from feelings of
almost spiritual elation through to apprehension of an as of yet hidden "something" you can't quite
put your finger on. Calling their music songs is perhaps a misnomer; they are incantations, prayers
for the lost, salvations of the soul.
An experience that leaves you feeling slightly out of focus for a while afterwards, Baba Naga's live
show is a thing of perilous beauty definitely worthy of your attention (devotion?)
---
Intermission…
Swedish Death Candy and Baba Naga had exhausted us with their awesome mind-melding abilities so we took some time to rehydrate and discuss our adventure so far. There was still a fantastic buzz around the two venues with an eclectic and colourful group of people coming together under the unity inducing umbrella of music. It was nice to be part of this blended consciousness, to hear others talk about their experiences of what they had just watched. It made me realise just how unique each performance is to each and every audience member, sure we rise up to a great intangible plain of  connected love for the performance as it takes place, but the thoughts and feelings produced from us by the sounds we're perceiving are all our own, we see and feel things that no one other person will ever experience. It's a beautiful thing and a powerful energy that we should not take for granted and should protect at any given opportunity.
Finally recharged and ready to go we proceeded to The Stag & Hounds for the remainder of our evening, as we walked in I was instantly drawn and bewildered by the outrageous but hypnotic anti-music that was fuelling an arced crowd so tightly packed that they moved as a single entity. It was none other than…
I couldn't get a clear view of the band but I bore witness to a sound that I can only describe how I'd imagine a perfectly symmetrical but horrendously violent collapse of modern civilisation at the hands of robots made of betamax video players. The… 'singer' was incoherently scrowling what sounded like the same phrase over and over, like a damaged fax machine seeking revenge over an explosion of drums and maybe guitar? I don't know… it was bewildering but addictive, it dug its claws in and injected a venom that made you livid at whatever you wanted to be, it was up to you, there was no context just raw potential for real feelings. Most enjoyable!
Next up for our enjoyment and a band that I was particularly excited about seeing was…
The only thing I knew of Meatraffle to this point was when Mr. Raffle played live with Fat White Family and I watched it on The Youtube but when I saw that the band was listed to play this event I knew that I'd be in for a treat just by company he mingles with.
I am delighted to affirm that they were everything I expected and more, an off-kilter rock band bordering occasionally on ska whilst remaining decidedly off kilter like a drunk in an armchair. There was a shanty quality to them, they'd be a perfect band to accommodate a pub brawl or foiled bank robbery. At times they bordered on ska but remained dancing on the wall between genres, coaxing and teasing but never quite one or the other. There was an element of parody that I sensed but it mightn't have been there – a subtle mockery of the typical resident club band, it tickled me but again I might be on my own there.
They were tremendous fun and a real must see (as are all the bands we see!)
There was that combined realisation within our little party once Meatraffle had finished their set, that feeling of 'oh shit, the time has come' there was now nothing between us and the final performance lined up on our itinerary. Again The Arbiter and The Attorney had given the imminent band's music a cheeky listen prior to the night but I had stuck to my guns and resisted! The cost of which was that I wasn't as worked up as the others but they had been bigging it up all day so I was definitely looking forward to it.
We went outside for some air and preparation for what was to come, we were a little on edge because we wanted a good vantage spot, to be in the impending throng of people carelessly hurling their limbs around, all wrapped up in an ear-smashing splendour. That's where we wanted to be and where we intended to go. We scurried back into the venue just as things were being setup which gave us a prime opportunity to get to a good place.
It was interesting to see the setup, an usual drum layout sat opposite a bench atop of which was a dated looking laptop, a midi keyboard and a series of wires and devices that I couldn't possibly comprehend. The audience started to build up around the equipment creating a solid wall of excited faces and wide-eyes, I could then make out two performers within the circle that we had all created, they took their places, one on the drums and one behind the bench of equipped and with the push of a button, the smash of a drum thus ensued the awesome, awesome and I repeat with full impact of the word, AWESOME performance by…
Holy shit!(wife) we were off! What took place from that first note through the stack of amps positioned behind these two technical wizards was an epic battle of analogue and digital, these two equally matched, energy charged super heroes (or perhaps villains) were neck and neck in a final showdown that trumps all showdowns (Cloud & sephiroth, Ripley & Alien, Kevin & Perry) and we were right there with them, like collateral damage. We were the buildings in Godzilla, the tiny people you see vanish into the Earth in 2012 – we were expendable and they used our energy to charge themselves further. The fastest and most complex drum rudiments I had ever seen were being beaten out by an insatiable individual hell-bent on victory with each and every hit of his sticks countering a rumbling, organ scorching beatdown of heavy electro madness, frantic dial twists took fragments of synthesised terror to new and unexplored levels, they goaded each other 'what are you gonna do about it?' but we all new that it was a war of attrition, everyone wanted both of them to win because they're ultimately perfect for each other. As I glanced around the audience between throwing as many peculiar shapes as I could I saw people about to explode like shaken lemonade bottles. The never ending build up between the two unrelenting powerhouses shaking the place apart with their constructed-paralleled battle cries was driving people to a primeval state  where all they could do was reach up to the ceiling and roar or scream or shout obscenities in an involuntary way, we were all overwhelmed, it was blissfully painful, we couldn't take anymore but we didn't want it to stop. Everyone was part of this as it unfolded right in front of us and I know that if it the battle was still going we'd still be there now, I could have listened to their take on Come To Daddy all night, it was utterly sublime (my old man bought me the album when I was about 10 and it ruined me).
The battle came to an end with either two winners or two losers, we'll go with the former because everyone was on a high, we had nothing left in us, nothing left to give, they had sapped everything out of us and left us blank, jiggering wrecks, the unforgiving music gods saw this and compelled the pair to give us one more, the exhaustion past instantly 'fuck it, we got this!' – They drove out another fantastic landscape of eerily dramatic and ridiculously powerful spell of crowd ending bliss met by insane whooping and cheering from an eternally grateful crowd.
We slithered out of The Stag & Hounds and made our way back to the car, buzzing in post-gig ecstasy, on the way home we barely said a word, like I said we had nothing left in us, they took it all and we let them. They earned it. My ears were ringing, my head was tingling and everything hurt but it was absolutely worth it!
---
Here is our collection of BIG LAD videos from the night, they do not do them justice at all!