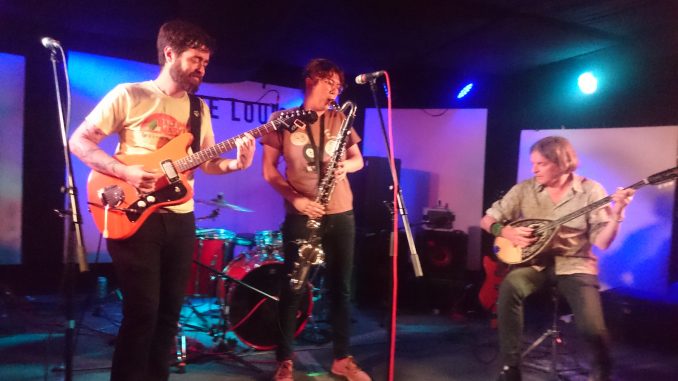 without doubt are one of the greatest bands to exist in all of time and I can say that with confidence because I have lost count of how many times I have seen them and I will continue to see them for as long as they're playing within an affordable radius of my house!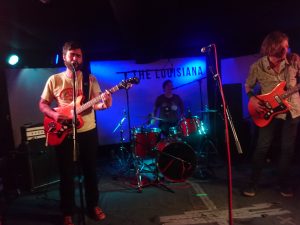 The band itself as the medium in which Mathias Kom is able to articulate the strange and wonderful observations he's made during his existence. These may be things as futile as love or as exciting as spending an afternoon in the arcade, it's a smorgasbord of nostalgia and pop culture references that make people feel safe, like looking at old photo albums.
I first went to see them in The Moon in Cardiff about six years ago, maybe? They had come over as a two-piece consisting of the wonderful Mathias and his lovely partner and musical mischief maker Ariel. I remember gingerly approaching them with a couple of spare Red Stripes thinking 'I am way out of my depth here' but (and the beer maybe helped) they welcomed me with open arms and I started to profess my love for them.
It was an incredible show, supported by Quiet Marauder and My Name Is Ian two other bands loved by The Shonk.
The following time I saw them they'd brought some friends with them with Jake Nicoll on drums, Nick Ferrio on bass and Darren Browne on cosmic guitar magic. Once again they not only brought sheer joy and bliss to everyone in the audience with their immense talent and stage presence but they were still as incredibly nice and welcoming as ever before.
Honestly, I can't emphasise their niceness enough, from conversations to record signings, to Mathias talking to my mum on the phone because she couldn't make the gig, to my favourite song being played for me on two separate occasions (once on my birthday), to receiving delightful notes with records I've ordered. And that's just me! There's a whole fan base out there who feel something very special because of the overwhelming niceosity of the band – AND I've even met other musicians from Canada who love the band and have worked with them, or toured with them and are even mentioned in some of their songs like Geoff Berner – I think by now they could give up trying and literally play any old rubbish and no one could care because we all love them forever now.
But y'know, I hope they don't do that, so far they haven't!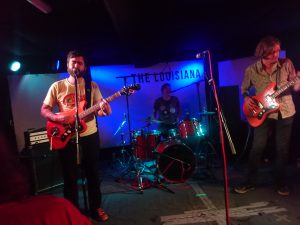 The recent komnation (see what I did there) of the band has seen a slight reduction in members, drummers called Jake are hard to pin down and Nick Ferrio has advanced from bass playing into FATHER mode (if you read this, congratulations) but Mathias, Ariel and Darren are still smashing out their hits with a brand new dynamic.
In a way it's refreshing because the last two shows (Cardiff & this one) has been the band as a three-piece and it means songs are delivered in a slightly different way, of course I'd never get bored of them in any combination of members but it has been interesting to see how they've adapted songs that previously featured five musicians with now three musicians.
One thing I both love and am a tad envious of is the way that Mathias and Ariel still look at each other on stage, the idea that two people can not only totally love each other but also fuel each other's musical fire and perform together on stage is a beautiful thing and I don't think there's any fear of them going all Fleetwood on us because when they perform Pass The Wine, Fuck The Government, I love you you can see the fire between them, no matter how many times they've done it, you can just see it. And it's totally lush… goddamn you!
I realise by this point I haven't actually said anything about the music itself and I don't really want to because you just have to listen to 10/20 seconds of any one of their tracks and you'll be hooked. Their overall musical range is exceptionally diverse spanning the plateau across indie, anti-folk, country, rock and roll, improvised jazz and probably speed metal. Their innocuous humour and stage presence strengthens their lovability, they're the band that you want to message you to say that they've got home safe!
So take our advice, book tickets to see them regardless of whether or not you know them and buy all their albums because it is impossible not to love them and if you find that they're not your thing I don't know what to say, abandon all hope because you're missing out!