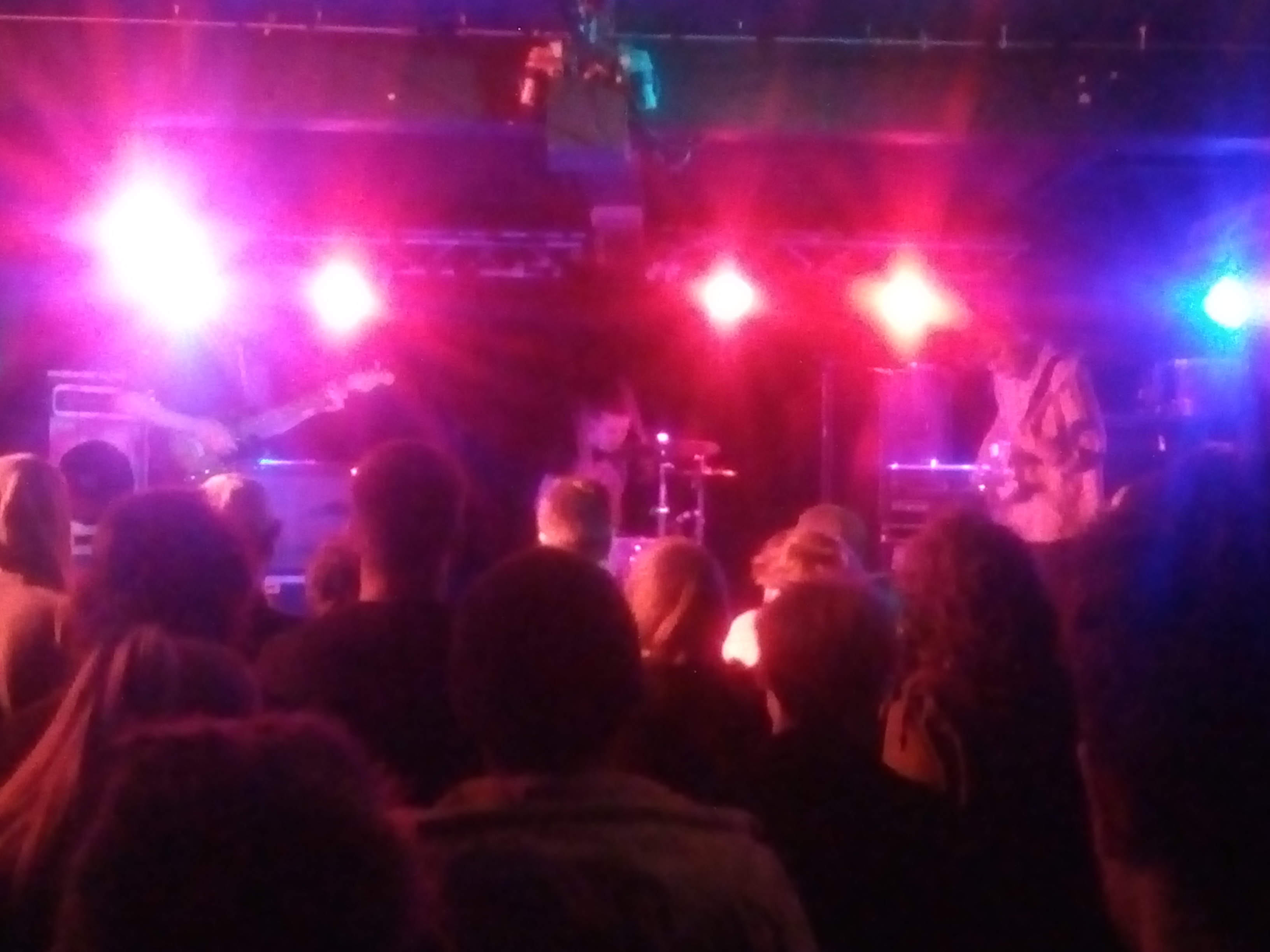 On the two occasions that I've seen Chiyoda Ku I could have easily assumed that they were the headline act and left after their performance. Both times they have used their instruments and exceptional ability to construct beautiful pieces of music to tap into my headbrain and transport me deep into my own psyche before spitting me out the other end, exhausted, empty and content.
This band will drag you into a cathedral of catharsis but leave you standing by the door so that you remain aware enough of the sound their creating in front of you, but you're over the threshold enough to go down the rabbit hole and they're gently pushing you towards. Everything they do is a soundscape to your memories,  each perfectly timed drum beat and every individual and immaculate twang of the Telecaster pulls something new up in your brain, like a series of associative flashcards.
When I saw them open for Tera Melos the internal journey I was transported on had a very natural and organic feel to it, with exception to the steam train I imagined courtesy of the machine-like drummer. We meandered through forests, hills and valleys, occasionally dipping and diving into a darker and shadowy landscape akin to something from Lord of The Rings, it was fascinating to see what my mind-brain would throw up as a result of being delicately tickled by the sound produced by three guys who appeared to expel no effort at all in its construction.
However, whilst listening to them at The Exchange the imagery appeared more urban, darker, like scenes from Brazil. With great looming shadows cast by dark, monolithic buildings. We explored alleyways, abandoned buildings glowing with the type of cynicism found in a John Carpenter movie.
There's a certain magic to this band in that they can play the same set but take you on a very different journey or cause you to feel very different things each time, now we have discussed this at The Shonk before paying particular attention to how a venue change can adjust the dynamic of the band you're listening to… but I have found that this phenomenon takes place when you listen to their record as well.
The pauses, breaks and emptiness between the notes and sounds of certain tracks are vast and harrowing, you're comforted when the sound returns a split second later but that moment of silence is enough time to stare into the void within.
There is so much to look out for in their album which is produced to an immaculate quality, since purchasing it at this gig I've played it time and time again, it's beautiful. It suits any time of day and any task because you can interpret it in so many different ways, need to get stuff done? Put it on and it'll motivate you with its driving force, want to relax? Put it on and suddenly it's a relaxing, meandering river of tone. There's a great guitar part in one of the tracks that reminds me of the opening theme to Dune… which reminds me, one of their newer pieces that they performed live had all kinds of effects going on and stops and pauses, methinks it was their takeaway form performing with Tera Melos, perhaps they had it in the bag already and I just hadn't heard it – either way, it's incredible and shows that they're happy to try new things to see where it takes them, hopefully there'll be a release from the band in the near future packed full of new and interesting sounds to explore. Until then the current album How It Works is available on their Bandcamp (link at bottom) for purchase in the digital and physical format.
After the gig I went outside for a smoke and was rescued by the drummer and a man on a bicycle who provided me with my missing cigarette building supplies. This act of kindness provided the segway into a brief discussion about the band and I was pleased that I was doing things right by experiencing a journey-like mental trip when listening to them. I proclaimed my love for them and went on my way.
We caught some footage from the first time we saw them and there's a mini-write up, you can watch / read that: Here
Band's Facebook page: Here
Band's Bandcamp: Here