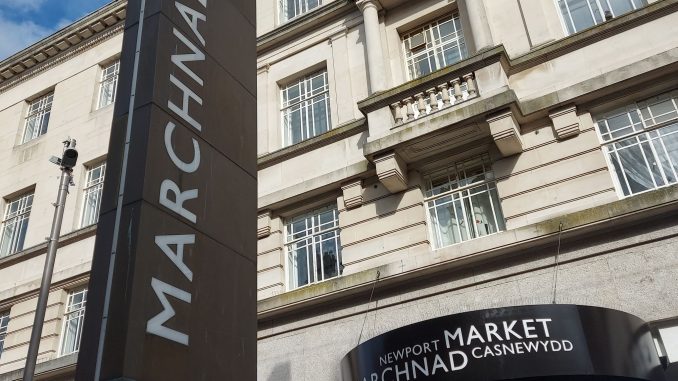 Following a soft opening, Newport Market officially re-opened on 19 March 2022. Boasting a full occupancy, new businesses, eateries as well as a total overhaul on the building costing between five and six million pounds.
The Market was overhauled by Loft Co a Welsh based company with a history of revamping municipal buildings such as Tramshed in Cardiff and The Pumphouse in Barry Island. The company has won several awards and has established itself as one capable of sympathetic restoration with a modern twist, allowing old work assets to survive in the new world.
We decided to take a walk there on 2 April to scope out the place, enjoy some food and above all, some coffee. Naturally an Academy Coffee House was established in the Market, owned by the Simon Baston and his family. Known for their use of Clifton Coffee which is delicious.
We arrived shortly before 4pm. It had been hard week for us both so we decided to take our time, ambling through the High Street, walking past the places we'd usually frequent in pursuit of something new.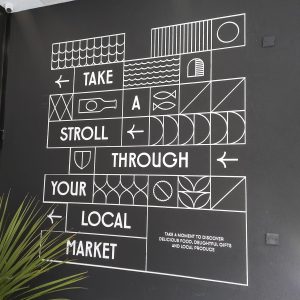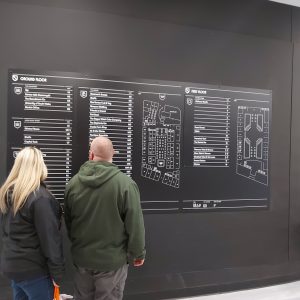 The hum of people was noticeable from outside, it was busy. Very busy. The lobby-area, previously a place to loiter about eating Welsh Cakes was now an area of tables and chairs, a spill-over for the new food court, no longer a liminal space but instead packed with people chattering, drinking and eating.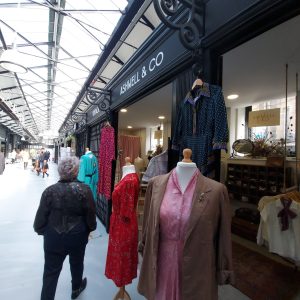 We decided to skirt the fringes and explore the new businesses, starting in the unit formerly home to Troutmark books, one where I'd spent much time, talking to Ian, listening to music, browsing books and music. Now an up-market vintage clothes shop. This boded very well for my wife and by proxy, me. Things were looking good.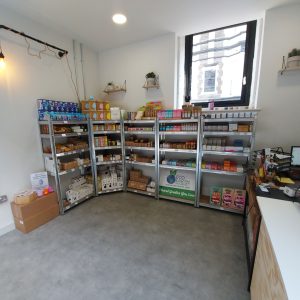 We continued our exploration, I was happy to spot the matchbox Transporter Bridge which I had feared would be put into some sort of Ark of The Covenant style storage, or worse, the museum.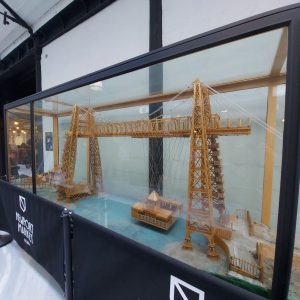 We explored eco-friendly household goods, pet supplies, comics, houseplants, and furnishings. It was very nice to see that City Treasures had reopened in the Market, a long-time staple of Newport along with the comic shop (Friendly Neighbourhood Comics) and it was wonderful to see that Welsh businesses had been able to use the opportunity of a revamped market to open in Newport.
By this point I was coming around to the market. I had never appreciated how it had been neglected for so long, or how it had closed, or how the Council had handed essentially a publicly owned building to a private firm to take care of. But I wanted to remain optimistic and slowly but surely I was being won over. When you've lived here long enough and become surrounded by mothballed, compromised, failed and seldom INTERCONNECTED projects you naturally become sceptical.
It was a little disappointing that the upstairs could not be explored, instead sectioned off at each staircase, but I was told that it was an event space, and an imminent comedy night would allow a fully immersive experience of the new space. Gazing up at the ceiling from the ground floor allowed me to see just how much they had put into the old building.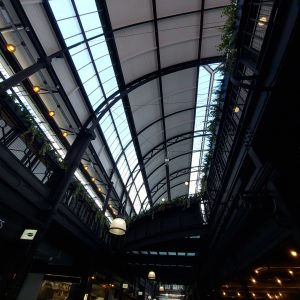 BUT then we decided to visit the food court. This area takes up most of the market, the middle area, where you would have found Toy Army, Dean's butchers, Sue's Café and her insane triple-cooked chips… now home to stone-fired pizza, Gnocchi, jars of delectable looking cheesecake, Greek dishes, cocktails, coffee, burgers and Thai food. A plethora of vegan options available, a real smorgasbord of culinary delights.
Most were closed.
I'm putting this down to either that some places close in the afternoon to re-open in the evening OR that places were running out of food due to it being so busy.
We decided a safe start would be coffee so approached the bar at The Academy. Within moments someone was there to take our order, so far so good. I ordered a latte and a Prosecco but was told (4pm at the time) that the coffee machine had been switched off.
This was vexing, it didn't seem late and the coffee machine at their Barry location does not get switched off. I asked if there was anywhere else to get coffee in The Market and was told simply, no.
Okay, so I opted for orange juice instead and was asked what my table number was… Oh I see. I was supposed to assume that I needed a table, what with the complete lack of signage or indication how would I ever know. OKAY let's go find a table.
As it happened a couple of people left a table as we were looking, table 14. Right on the corner, as far from the bar as one can be. Located in the Baltic region of the Market, I asked the people next to me if they were cold and they responded with 'bloody freezing' – this was the third time I had been told this since we arrived.
The issue we faced now was… how do we claim the table AND return to the bar without it being taken by someone else? Not to worry, we could order drinks with the QR code. Fine. But we still needed to get food. So individually we set off, one guarding the table whilst the other checked the available food. We decided on sharing a pizza, so my wife went to get it. She returned shortly after, having been waiting at the counter for six minutes only to be told that they had sold out.
Hey pizza guy, maybe put a sign out if you've run out of food and not let people stand and wait for you to tell them. Okay, so let's go with Greek. We ordered a couple of loaded pitta bread contraptions that were delicious and incredibly messy to eat. The wooden cutlery provided disintegrated into nothingness upon use. The entire process entertained us greatly and detracted from the lack of caffeine.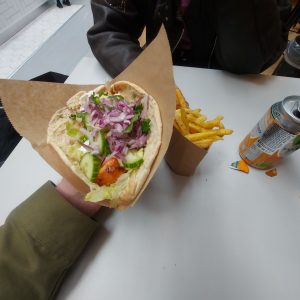 I spotted a couple of locals amongst the crowds, but it felt like I was seeing people from Newport in Cardiff or Bristol, not in Newport, the place that we lived. I realised that all feelings of it being a local Market was gone. Other than the shell, what was was no more. It was something entirely new, tailored to an impending future – one of a predominantly residential High Street – a place for the growing era of hedonism that we are hurtling into.
I was comforted by the number of dogs that were in attendance and the fact that the people around me seemed to be having a wonderful time. Although I did mull on how irritating it is when the range of non-alcoholic drinks is made significantly smaller by a vendor that has COFFEE in their title. However, upon speaking to a few people I was informed that maybe I had dodged a bullet as the coffee isn't very warm – I can't attest to this though because I didn't have any.
I would have gone to Tiny Rebel as an alternative but they ditched their coffee machine because it was inconvenient. Fair doos the choice of food for people is broad as hell but if you don't drink booze you are fucked.
We finished our food and made a quick exit, back home for a coffee. I haven't decided if I'll return or if I should succumb to the fact that the Market belongs to a new age. But if I weigh up that I've been going to The Coffee Shop (Upper Dock Street) for over twenty years and they've never, EVER failed me and I've been to The Academy Coffee once and they couldn't serve coffee – I think I'll stick with the former.
That said, we will have to return for the food, the cheesecake, the burgers, the everything really. I might not be fully sold (yet) but seeing a market full of traders again is wonderful and I hope they do well, they'll certainly be getting our custom.
You can see the full list of businesses in the market here: https://newport-market.co.uk/