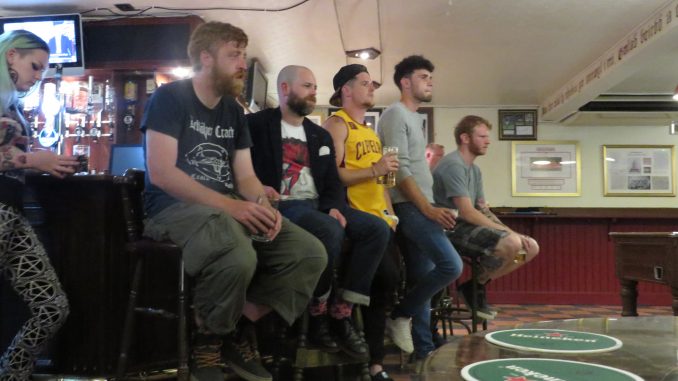 This particular gig saw our resident noise inventor being invited to play and open for two high-class welsh punk rock / roll bands! Due to The Shonk bi-laws it is forbidden to review any appointed resident musician so we'll skim over that. You'll just have to see him in action one day, so in this instance we're going to talk about Throwing Knives & Stitched Up.
As a former resident of Pencoed it was nice to be back, flashbacks notwithstanding. The Chatterton Arms or The Chatts as it's locally known is an all-round good pub and one thing they've proven to us is that it can get mighty loud in there and it's awesome. I believe this was the first of a series of new events being held in The Chatts so be sure to check out their Facebook page (here) to keep up to date with further events! It's vital to support local music and local venues, without them the true world of live music would collapse and we'd be left with Foo Fighters and fucking Cold Play.
---
A fierce an unrelenting Cardiff based 4-piece, Throwing Knives put you into a musical choke hold and don't let go until they're done with you. Their energy and sheer power in delivery was too much for the building, it could barely cope! I would like to see them in a bigger environment if only for my own aural safety. I would say, in the best possible way that they would be a great band to take your dad to see. They incorporate seamlessly a number of influences of classic rock and metal and unite it with elements of nu-metal. At no point does their energy wane when it comes to delivering profound, gut-punching numbers concerning a number of modern day talking points like equality and the issues of political bollocks that us who know better are forced to deal with. Throwing Knives will rile you up and inspire you to revolt and rebel, a real must see!
————–
---
Following the theme of full-throttle four-piece rebellious terror was Stitched Up, also Cardiff based – needless to say they led us down a slightly misleading path with their comical between-song band banter, the type that is a signature in Wales, self-deprecating, dry, sarcastic and utterly brilliant. However, despite these rest bites we were soon thrust into action as they pounded out no end of all or nothing ball-busting songs.
Again there were nuances which reminded me of some of the classics like Black Sabbath, Thin Lizzy and Metallica whilst mixing in that sweet modern twist of punk and angst.
---
It was an all-round top evening that got the ears ringing and the anarchy brewing within, these bands do play together from time to time so if you can get to a night where they are both on I'd very much suggest that you do that!