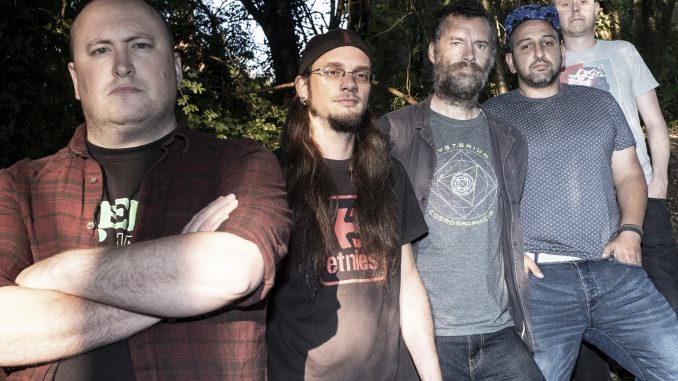 As I sit here and listen to the bewildering chaos generated by the wind whisking through the woods that wrap around Shonk Towers it brings me to think of forces to be reckoned with, of which the band I am about to talk about is one of them.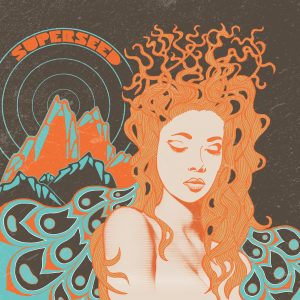 Superseed have immersed from the collective brain-minds of five Bristol folk hell-bent on harnessing the almost untameable beast of punk rock and steering it elegantly into the sunset. The five piece along with musical friends bringing about their essential contributions to certain tracks have assembled an immaculate compilation of 16 consistently strong tracks. Their self titled debut album throws you straight into the proverbial mosh pit with a fast paced driver of a tune called My Time is Now. 
The rhythm section ticks over effortlessly at high revs setting a high bar for the lead which winds intrinsic melodies through a melting pot of great rock influences like QOTSA, Black Sabbath and although not noted by the band I certainly felt there were elements of Rush throughout the progier moments which I thoroughly enjoyed.
The band's own guitarist and vocalist David Edgar is responsible for the production of the album which is absolutely on point, from start to finish it sounds crisp, professional and inherently unique. Another nod to good production is that you can crank the album as loud as you possibly can and it doesn't break up at all.
What I like about the primary producer being in the band is that it allows for ease of creative expression and final say. It feels that throughout the album everyone in the band has been able to step forward and pool their particular sound into the foundations of the tracks. This has worked very well because clearly they're all talented musicians capable of the symbiotic relationship required of a good band – the album is strong to the point that it carries the strength of its creators behind it.
They haven't been afraid to try something that's been brought forward and that's allowed for some good variation. My Time Is Now leans towards a Foo Fightersesuque punk number that grabs you tight and doesn't let go, it's compact at a radio worthy 03:47 and contains the perfect amount of ingredients and ingenuity, as the entire album does.
Static pulls the reigns back and takes a dirgier journey, slowing down slightly to create an ominous feeling of ambiguous worry,
No One Gets Out of Here Alive reminds me of innocuous stadium fillers Cheap Trick with those classic 80s big hair riffs. Let Yourself Go is a fresh re-visit to early brit-pop with a jingly indie sound and lots of 'oohing' – be warned with this one it WILL get in your head.
The entire sound of This Is The Way To Go oozes with nostalgia, taking another nod at the optimistic but melancholy eighties rock sound, it draws you in and plays on your musical memories with bridges and breaks arranged with such nostalgic precision that you'll be left wanting more, perhaps a cunning tactic putting it at the end of the album!
Flashbacks of my music tech course where I had arguments with lecturers over the term 'industry standard' come flooding back because I think this album is an example of a high grade end product when every component and quantity therein is perfect and polished. It pays homage to the bands that have obviously influenced its' creators and certain elements of it are virtually timeless were it not for the refinement of the overall sound – that being the most important thing, it sounds amazing and that heightens it's cutting edge. Especially when you consider that the band have been working on this album out of their garage studio! Kudos are dude. There's something for everyone and (not that we like to talk about this sort of thing here) there's a definite marketability to it, every track is worthy of major radio play and the majority of the radio's audience would thoroughly enjoy it. I know it's not the point of making music but it certainly helps!
As I've likely already said the whole thing is solid and enjoyable from start to finish, you'll be compelled to tap your fingers or nod your head along and like me you'll be excited at the prospect of seeing them live and drawing from the same energy that they have.
---
Band links:
www.facebook.com/superseedrock
www.instagram.com/superseedrock
www.superseedrock.bandcamp.com