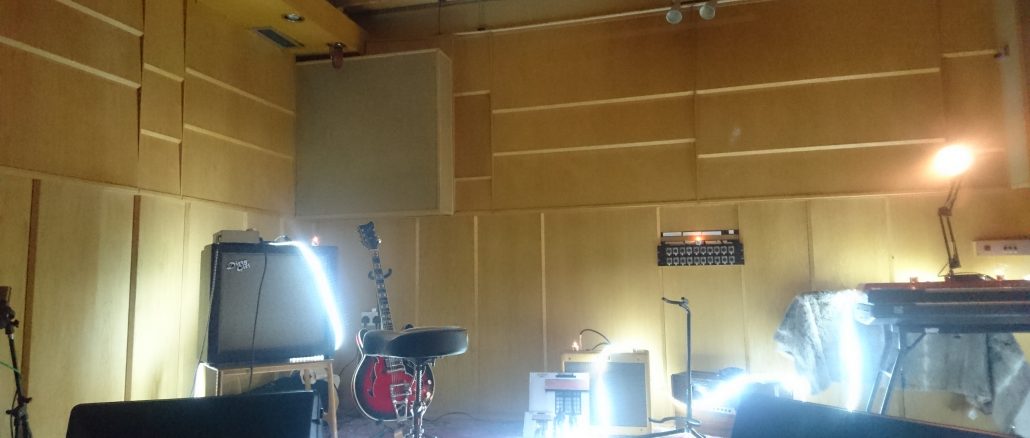 A gig in a recording studio, quite a culturally important studio, both Portishead, Dummy and Massive Attack, Blue Lines were recorded here, two iconic moments in the musical history of Bristol, iconic albums which will long be revered and remembered.
This is a perfect environment to see this show; intimate and, obviously, the sound was pristine. A small gathering of 20 or so people filled the recording space and were held enrapt in the beautiful sounds they were presented with.
I have known both Toby and Jim for a few years now and when I first met them I was impressed with their guitar playing. Over time both have moved on, as well as an undoubted technical ability there is a feeling of joy and warmth to their playing. It has been a privilege to see this progression as it happened.
A couple of years ago the pair toured Scotland together as soloists and during the lengthy downtime between shows started jamming together, cultivating a sympathetic understanding between them.
This was evident in tonight's show. Half way through a 20 odd gig tour promoting their album The Hawksworth Grove Sessions, this understanding has been sharpened. The interplay between the two was a joy to hear. The chiming ring of Toby's 12 string working in perfect unison with the deeper tones of Jim's 6 string.
Their tunes carry you away, intricate melodies wind their way around each other, playing back and forth, then joining together to create an uplifting and wondrous whole. Feelings of serenity and beauty stand next to unabashed joy and elation in their music. One cannot help but be carried away with these two on their journey.
Obviously very comfortable with the music they are creating and each other. Jim and Toby appear relaxed and content in this environment. Both seem to lose themselves in the music, eyes closed, head's swaying as they conjure their magic tunes. Only to return between songs engaging and joking with the audience.
Their playing and interaction reminds me of, and I don't make this comparison lightly, the work of Bert Jansch and John Renbourn. Two brilliant guitarists who combine to make a special sort of music that can lift your heart and sooth your soul.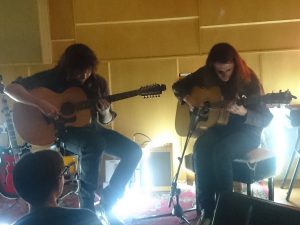 As well as their duo album both have many solo releases, Toby played a staple of his set "Starlings". I have seen Toby play this track many times and each time there is a subtle change to the delivery, remaining the same but new on each listening. Tonight Jim added a lovely depth to the tune with his harmonium additions.
The evening finished with Toby on electric guitar whilst Jim played harmonium on a version of Jim's song "Banks of Mulroy Bay", brilliantly accompanied by "off the cuff" piano embellishments from studio owner Tom.
The music of Jim and toby is always a pleasure to see and hear, the experience was only enhanced by the venue. A wonderful night in a wonderful setting.
Thanks must go to Tom Hackwell, owner of the studio for putting this show on.
---
---
Links:
https://www.facebook.com/coachhousestudiobristol/
https://www.facebook.com/Toby-Hay-280536078727886/
https://www.facebook.com/jim.ghedi
https://twitter.com/tobyhaymusic