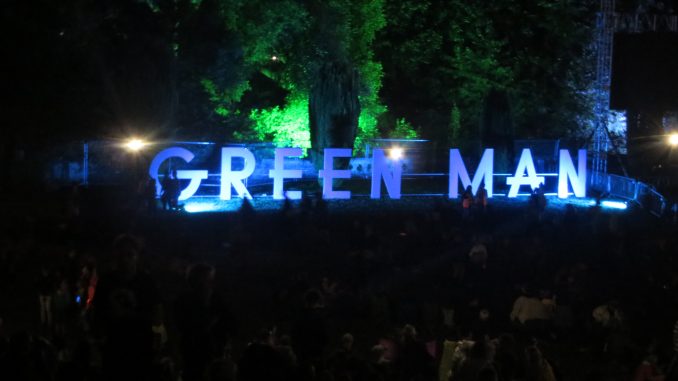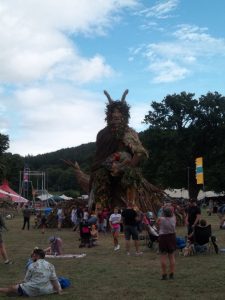 Many months ago I got the hankering for a festival. I didn't fancy the fast paced turbo charged carnage of Boomtown, a festival so amazing that you never see any of the acts you have planned because something else will always distract you!
Sadly this year there was no Surplus so this left me no choice but to consider another option. Then one evening I saw an advert for Green Man and I remembered that this had been a popular festival for friends of mine in the past, some as festival goers and some as performers!
The line up for 2018 was exciting and brimming with music that I had really wanted to see, from a logical perspective it was cheaper to buy a Green Man ticket than to attempt to see all the acts at individual gigs, it would also make getting to see them easier as all I'd have to do is walk from one stage to another.
I bought my ticket and paid for it via three monthly instalments which was great because I didn't even notice that I was paying for the ticket. However that did bring on some panic later in the year when I realised that I couldn't find any evidence of having paying for my ticket because I'd used a different email address and it wasn't until my ticket actually arrived that I knew for sure that I was going! I was so relieved when it arrived!
---
Following on from Arbiter Titan's great example I decided to draft myself an itinerary and do my utmost best to stick to it. I had agreed to take along Ukulele Graham , a friend from a local open mic night as we were both going alone which seemed easy enough as neither of us were obligated to have to spend time with each other if we had places to be – the best type of person to take to a festival if you intend on seeing specific acts!
Thursday was a busy day and I had to go to one of my 'other' jobs before picking up Ukulele Graham from his actual journalist job at an actual reputable news centre. To my surprise I managed to turn up at his place of work not only on time but with everything I had intended to bring! The van was loaded and ready for our mini-road trip to the good town of Crickhowell.
Excited and free of all responsibility (except for operation of vehicle) we set off for Green Man and everything that it had to offer us!
It took no time at all to get there and the transition from work to city traffic to slowly navigating a field to find somewhere to park seemed to be running at a montage pace!
It wasn't until we got to the car park that the scale of the festival started to sink in, I knew that it had grown massively over the 15 years since it had started out as a folk festival consisting of a few hundred people and I had even seen a map of the grounds but I don't think you can truly appreciate the scale of an event until you enter the car park and realise how likely it is that you're going to lose your vehicle.
Once we had settled on the ideal parking spot (criteria; that'll do) the realisation of moving physical items from A to B became apparent! But hark! What did we spy? People with large blue trolleys passing us from all angles. Some coming, some going, some loaded up with 5 day's worth of KitKats and children, others taking on the form of a mini-micro off licence. It didn't matter to us what was being carted, the point was that carting was an option. Carts were available and cart we would our stuff from the van (not a cart) to the camp (also not a cart) WITH THE CART! MY GOD GRAHAM, GO GET US A CART!
So he did.
It was incredibly useful, especially as I still needed to use my fold-out festival trolley courtesy of Brecon Aldi a few weeks prior to Green Man (I knew it would come in useful!)
We made our way down the hill in search of the gatehouse, our only point of reference given to us by the Le Pub team who were overseeing and running the Help Refugees shop and collection point near the entrance. Fortunately the only direction we required to find them was 'down' and within 15 minutes of downing we found their camp and made it 35% more awesome by extending it with our tent and presence.
The next goal was to find someone with a program so that I could jot down where and what was on over the next few days, I wanted to buy my own especially as it came with a lanyard and I just LOVE lanyards but my festival budget was decidedly tight and the idea of sustenance was slightly more appealing (only slightly) than a lanyard!
With our tents setup, the groundsheet down, camp stove ready to build hot beverages, cameras charged, umbrella hat packed and a hastily scrawled list of bands and artists in my notebook I was ready to begin my adventure.
Ukulele Graham and I set off in the direction of the music, as that always seems to be a good direction to follow at any festival, or anywhere actually… there's nothing more exciting that walking up the road or track or whatever is laid out before you, merging with a diverse crowd of music lovers, streaming into the direction of tunes, the bass growing under your foot from a gradual hum into something that starts to move you and vibrate you towards it, like a hypnotic conveyor belt it summons you psirenly into an orderly river of weak-willed rhythm addicts and lures you towards it. We were in that river and we didn't need a paddle because we were happy with the direction in which it was coursing.
Suddenly shapes, colours and sounds started to form all around us as we transitioned from the residential district of Tentfordshire into the beating heart of the temporary town. Paths, routes and avenues meandered off towards inviting and enticing stages and platforms, all cwtched up quietly for the first night, quietly presenting themselves and reminding us of what was to come over the next few days.
UG's first mission was to establish the exact location of the dance tent which took about 3 minutes from the moment we left the tent. Satisfied that he knew where his home away from home away from home was we made our way semi-unwittingly into the main area that was dominated by the cathedral-like Mountain stage. Beautifully positioned with the Sugarloaf right behind it, poised unmoving like a protective barrier between us and the rest of the world – allowing the heavy, looming black clouds to tumble over it and bounce off the landscape missing us entirely!
Thursday was a fairly quiet evening made up of settlers who had been there all week and people who couldn't wait to escape reality like us, with most things due to begin on Friday it felt like we'd had special 'early' access to help get our bearings, we explored the lay of the land for a while whilst waiting for the main act of that evening (for us at least) to start in the Far Out tent.
And what better way to begin an incredible festival in the heart of Wales than to experience Public Broadcasting Service commemorating Welsh history, culture and industry with their absolutely sublime 'People Will Always Need Coal' track. Everyone and their proverbial dog had made their way up to the Far Out tent to catch the performance because frankly it was unmissable. It made getting to the front impossible but it certainly reminded me of the importance of turning up slightly earlier for vantage points (something I still didn't really adjust to!) – the sound was incredible and it PBS were the optimum band to see first. In fact I think that all festivals should open with a PBS performance, their ability to roll out these great plateaus of never ending musical terrain in front of you is astonishing. The journey they take you on is split divisively between the ethereal and the concrete; this idea generated by the fusion of post-rock driving guitar riffs and melodies that dance around the fires of freedom and the cold and controlled information provided by the early samples that they have used – this is what these guys do and they do it beautifully. I find that it creates a double appeal, being a fan of British Pathé films and old infomercials and far out spacious aural delights makes PBS ideal to see and they were certainly one of (30ish) reasons I chose Green Man this year.
The rest of Thursday evening was dedicated to the acquisition of food (a delicious BBQ wrap full of ingredients!), making friends and mapping out the festival. We had a great chat with the keepers of the putt-putt boat stall who were making and selling beautiful candle powered 'toy' boats – something I remember owning in my childhood, I bounded up to their shop shouting 'ohmigod Lewis would love this!' (we had recently discussed these boats and he had never seen or heard of them before!) – truly fascinating and so much fun, I implore you all to go out and buy one! Or two, because then you can race them!
---
FRIDAY!
After a freezing cold night of broken sleep because I had left all of my suitable layers in the van it was time to begin Operation Itinerary – but not before some insta-lattes and a brief musical jam with the instruments we had dragged there with us. It was quite nice actually, we had good feedback off passers by (lots more people turning up for the festivities) and we even had a visitor come jam with us on his way to his tent. A chap from South Africa who played a bit of jazzy-reggae (jeggae / Razz) with us before heading off again. Satisfied with our musical abilities we set off, first of all heading to the Far Out tent again to check on a real Shonk favourite, The Lovely Eggs. I have only ever seen them in relatively small venues which had always been packed out, the last few shows being sold out as well! But to see them so far away on that stage with thousands of people packing into a tent to enjoy their greatness was incredible to witness. I felt so much joy for them as clearly people had good musical taste! A big stick hovered above the crowd complete with the Lovely Eggs 'Fuck It' scarf (we had tied ours to a fence near the tent) – it was absolutely pumping, and you could really take in how much kick they have as a two-piece because it was vibrating through us! We didn't stay long, it was more to make sure they were okay and being suitably enjoyed, we were happy that they were and that meant that we could continue our journey.
We made our way over to The Mountain stage to catch Amber Arcades, a band I had seen once before supporting Grandaddy in Bristol (last year I think) and I had really enjoyed them. Now I could enjoy them again and one thing I learnt quickly was the basin-valley type arrangement around The Mountain Stage is acoustically incredible. There's a 2/300foot radius around the main stage where everything sounds great no matter where you are which is quite surreal and brought on a few anxieties about how close I needed to be to a band to have actually 'seen them'.
Anyway…
Amber Arcades were incredible, they pan the genres picking out hints of folk, country, psych, post-rock, indie… a real cheese-board of assorted sounds, delivered beautifully with Annelotte De Graaf at the helm letting her lyrical splendour dance across the dream-scape of sound. It's important to point out that Annelotte drew a little cat on a record I bought off her last year and that can really raise one's respect of a musician (ten-fold!).
Their tracks are as optimistic and enlightening as they are melancholy and at times heartbreaking. It comes from the mixture of feelings behind it all, lyrics about break ups, heavy hearts, stress, emotional baggage and that's just the stuff I clocked or at least related to, but the instrumentation keeps cheery and upbeat, it's a light but reflective emotional experience that's just right for a Friday afternoon in a field.
It was this point in the day where UG and I parted ways, his desire for the dance tent was too much for him to fight and so we informally agreed to 'see each other later' – I ventured to the coffee place to grab a quick latte before Eleanor Friedberger took to the stage. I know it's extreme but, I love her. Firey Furnaces are immense, a peculiar and at times sinister carnival of sound that twists around bleak and unsavoury narratives. I let out a little 'squee' of excitement when I realised that she was playing, personally I'd have been happy if her and I could sip tea from dainty cups whilst slouching in big arm chairs as I asked questions about whether or not my understanding of the Widow City album is correct or not. But y'know, I had to settle for watching one of her performances – ho ho, woe is me! – it was positively electric! Watching a single human person dominate a vast stage and allow themselves to be fully consumed by their own groove is a magical event to witness. As she chopped and changed from guitar wielding to microphone caressing across a varied score of self-written, indiesque guitar tunes to backing track driven ballads documenting obscure and shady observations of the creative underclass. Eleanor's voice like melted chocolate elevated me to a place both comfortable and sharp.
[big gap, where was I?]
My itinerary must have started itching in my pocket as I became aware that my diversion must end and so I journeyed back to the Far Out tent ahead of schedule to get the best vantage point I could so that I could witness the terrifying wonderment of Beak>. What unfolded before me was an unsettlingly cosmic venture through a spatial tunnel between time and space. Something akin to the tunnel / boat scene in Charlie & The Chocolate Factory, there was no way of knowing where this was going. A kaleidoscopic carpet of interstellar nylon was seamlessly unravelled before us, allowing us to transcend into a dimension equal parts claustrophobic and vast.
…I made my way to the Walled Garden to catch a glimpse of Snail Mail, a band I initially discovered through Spotify suggestions and then suddenly realised that they were being talked about a lot. That's as far as my knowledge went so I was eager to see them in the real and absorb their sound. I was blown away by what I heard, something seemingly innocuous but hard hittingly haunting as well. The music is a stark back-drop, a long meandering road through dense woodland that carries the voice of Lindsey Jordan for an eternal distance before arriving at the centre of your soul. They clutch you tightly as a friend would when they need to remind you that we are all broken. It's painful yet soothing, like a truth we didn't know we needed.
An absolute must see for me was another band playing at the Far Out tent, a band I had discovered through one of The Shoracle's mystery Christmas records and a band that for some reason I assumed was from Paris and also assumed consisted of around three members. I could not have been so wrong, it was of course Whyte Horses who I now know are from Manchester and there aren't three of them, there are ten of them! TEN! Ten beautiful humans all contributing to the poppy, dreamy soundscape of one of those heavily saturated old french films…except it doesn't exist. I think that's where I got Parisian from but there was always part of me that thought they might also be from Japan. I guess if you combine Japan and Paris you get Manchester, who knew?
The first thing that blew my socks right off was them opening with a sample from Season 3. of Twin Peaks! Being a big Peaksy fanboy I couldn't contain myself and almost dropped the camera in place of shouting 'DOUGIE JONES' at the stage. I refrained and caught the moment for prosperity and TP fans alike. The 300 band members made their way on stage and started their chapter of stage reign with a dark and foreboding instrumental before bursting into one of my favourites, The Snowfalls!
What an absolute delight it is to watch Whyte Horses conjuring up a vast, ethereal sound that swirls up all around you, pulling you into a soft world of pillows and happiness. I loved their stage presence too because they all had their own little parties going on. On the far side team rhythmic strings were having their own little get together, in the middle it was the lead-singer soiree where all the loose dancing was going on, near me was the twinkly-string section, swaying with their guitars and (violin?), then at the back you had the percussion and synth guys getting loose with their plethora of plinks and swoothes. And obviously the drummer was there too.
They were sheerly brilliant and I left their performance elated and thoroughly warm.
It was then time to make my way from there to the Rising Stage, passing via Mountain to catch a little of Dirty Projectors, another band I only know through spotify. They have an interesting sound, off kilter but wholesome and optimistic. There were points where I thought the vocalist sounded a little like Tom kenny and that changed how I pictured the band entirely, it made me chuckle which was a good reaction. I didn't stay long but I didn't dislike what I was listening to – more time needs to be invested in their sound.
By now I was following a river of people heading into a dark and unknown corner of the festival, I asked someone 'am I going the right way?' they asked 'where is it that you are going' I told them and they confirmed that I was going the right way, I was then invited into their fold and assured that they'd get me there safely. They introduced themselves and assisted me in crossing the stream that was required to make it to the stage. UG had been bigging this band up since we had arrived and he had told everyone we had met to come and see them which worried me because that was a lot of people and if they all went we might not have fitted!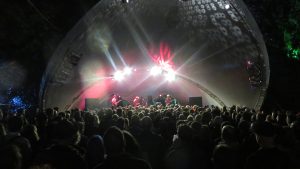 It was of course Black Midi a band who up until UG had mentioned them I had not heard of, or at least I hadn't remembered them if someone had told me about them. I didn't know anything about them at all and the word 'midi' was a real thought-thrower, was it a red herring? Were they electro? UG had told me that their drummer was off the chain so I at least knew that they had a drummer.
Well shit, nothing could have prepared me for them anyway! I was over the moon to work out that they were exactly my cup of tea within the first 4 seconds of their performance. I was a fair way back but the sound was perfect where I was standing, I could see four figures in what appeared to be orange overalls (which they weren't!) and sure enough there was a drummer who happened to be off the chain! All expectations exceeded!
I witnessed something so mashed up and wildly influenced by so many great things that it sort of looped around on the scale allowing it to become wholly original and fresh. There were essences of greats like Slint and Fugazi but wildly distorted and dripping in a hypomanic math-rock, glitch out frenzy – overlaid with sinister vocals that sounded as I'd imagine a warped flight safety video playing on a continuous loop amidst a plane wreckage would sound as it slowly melted – beautiful.
All buzzed up from the exquisite sounds that I had been fed I made my way back to The Mountain stage for the final act of the evening before it was time to disappear into the night in search of warmth and sustenance.
I was particularly excited for the next band, don't get me wrong I was excited to see pretty much everything that unfolded before me across the duration of the weekend but this was a band that I had had on my 'see' list for some time, I had just never got around to it. Yet another band introduced to me by The Shoracle who I think we can all agree at this point has incredible taste.
And so it was that I had my mind lifted from my human form as King Gizzard And The Lizard Wizard engulfed the lowly landscape in an extraterrestrial bubble of kaleidoscopic thunder peril! The ten million member strong mega-unit blasted endless waves of psychotomimetic aural overdoses across the crowd like some sort of dark magic. The energy being created on stage was palpable and fuelling a frantic spin-drier frenzy of crazed moshers at the front. 
They wove tracks together like a hallucinatory patchwork blanket that stretched out from the stage across us all, wrapping us up and compelling us to move to our own perceptions. They played for an eternity that was over all too soon, every fibre of my being had been willingly sapped of all energy. I had been traversed across a plain of unprecedented musical delights from the moment I had woken up until now – and it was only Friday.
---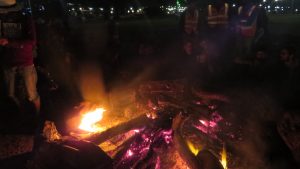 After the performance we located the fire pit and chilled there for a while, reflecting on the overwhelming joy my time at Green Man had been so far. The sights, the smells, the people, everything was wonderful and there was still so much to get through. I hoped that my supply of sachet lattes would be enough to get me through the weekend.
At some point I returned to the camp, eager to start the next day which you can read all about in part 2!