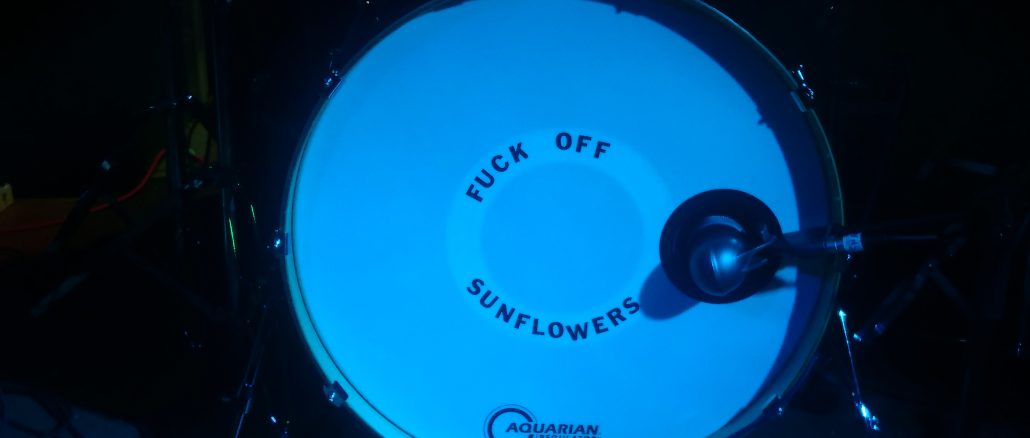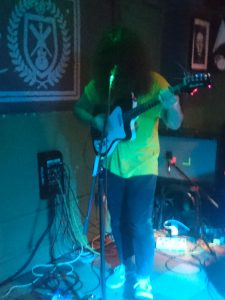 Having seen, and been blown away by these guys at Bristol Psych Fest, we at The Shonk were eager to catch these guys in a much smaller, more personal setting at one of our favourite venues, The Old E in Bristol.
To see Carol and Carlos quietly chatting outside beforehand you would never have guessed the sonic mayhem they
were about to unleash…… how just two people can combine to create this beautiful, crazy cacophony of noise is beyond me.
The welcoming message on the drum kit was a notice that once on stage these guys are transformed into crazed hairy trash monsters intent on blowing your minds, and quite possibly your eardrums too!
The whole evening was like a soundtrack to a 50's black and white B-Movie featuring surfers, werewolves, aliens and pizza eating punks. It was loud, frenzied and sometimes unintelligible ….exactly as it should be.
A packed Old E was pulverised by these two Portuguese Psyche Purveyors. Hiding behind a veil of long hair, Carlos thrashed away at his Danelectro, wrenching out a reverb heavy squall whilst Carol attacked the drum kit hard, like she's really mad at it . The tinny vocals giving a disturbing edge to the sound that was only heightened when they both sang/shouted together.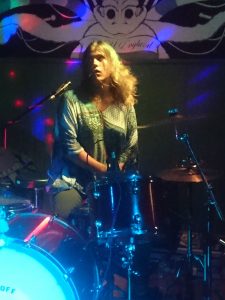 When songs slowed down with just trebly, twangy guitar, Carlos peering out from between strands of hair with a demented look in his eyes, twisting his terrible tales, the crowd were enrapt. Only to be ripped from our reverie with a sudden outburst of flying hair, flailing arms and screaming intensity. The energy they exerted, especially Carol on the drums, was extraordinary.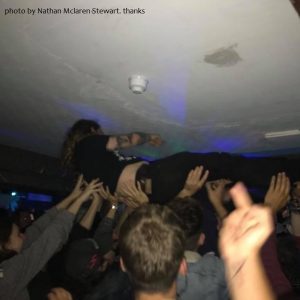 Again and again they took us on this journey, it was exhausting and exhilarating. We were taking a pummelling, at one point I thought this had taken on a physical effect, bashing me across the head but it was just a rogue crowd-surfer's boot!!
(The flying boot belonged to Stolen Body Records head honcho Alex who came up to me after the show and apologised for kicking my head.)
The whole evening was summed up when Carlos introduced the last track: "this song is about tripping on LSD". We had been on a trip, not a flowery floaty one but a trip into the darker places and we had come through it.
We left The Old E sweating, smiling and just a little bit scared.