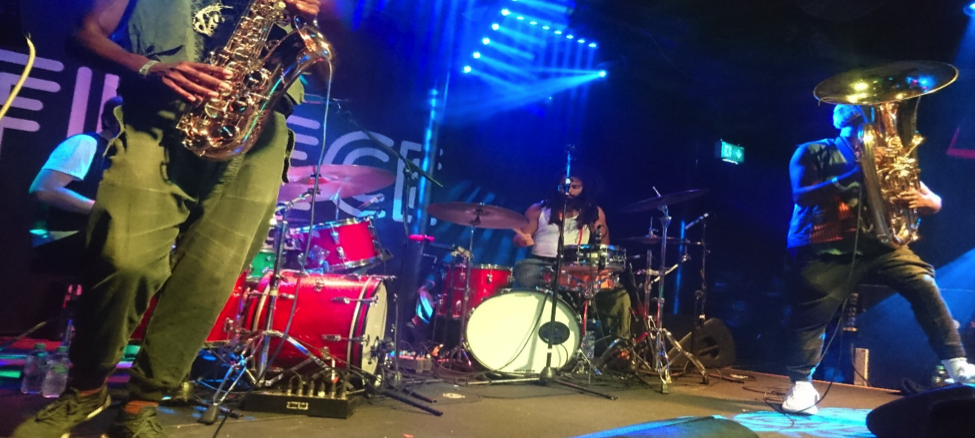 Before the show the nervous excitement was palpable in a sold out Fleece, the crowd was here to dance and dance they would.
I have always loved the sound of two drummers, it allows one player to go crazy while the other keeps the beat and structure. This is exactly what happened tonight with twin drummers Eddie Hick and Tom Skinner (though sometimes they both just went crazy).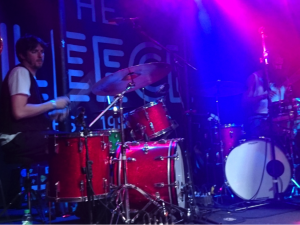 On top of this solid base, the bass of this show was provided by a TUBA, Theon Cross laying down bone shaking notes and deep grooves that just made you move. I'm sorry we had no choice. He was producing sounds out of that instrument that I just did not realise were possible.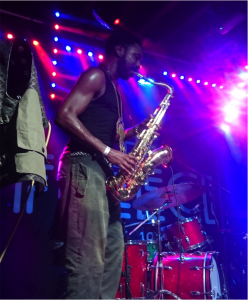 Saxophonist and band leader Shabaka Hutchings is a player with an incredible range, he produced touching beautiful moments that soothed your very soul and the next minute he was skronking, honking and screeching. Commanding you to close your eyes, throw caution to the wind and throw shapes of devotion in every direction.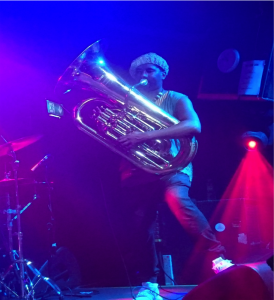 Though they are known under the wide umbrella that is Jazz, there are many musical styles on display tonight: Afrobeat, Arabic rhythms, hip hop beats, ska/reggae, full on free jazz.
To the forefront was joy, everywhere I looked were people with beaming smiles on their faces just moving with the music.  From blissed out moments of uplifting spirituality to full on body possessions, moving with wild abandon.
The intensity of their playing was immense. Tunes would grab hold of you and never let go, demanding your total attention. Beautiful, rolling melodies carried you away on a carpet of contentment to an almost spiritual plane. High intensity rhythms with intricate, repetitive melodies overlaid compelling us to move our bodies at one with the music. Then, when they really let go and hit us with wild, cacophonous mayhem we were transfixed, unable to defend ourselves from this ever growing wall of (dis)organised beauty that was taking us over. Hearts were racing, heads were shaking, arms were flailing at the sheer ferocity of their playing. They held us enrapt until it felt that we could not take any more.
As a song finished you could feel the release of joyous, thrilling tension spread throughout the crowd, previously held breaths were exhaled, brows were mopped, everyone preparing to begin the next glorious musical trip. So it continued for a magnificent 90 minutes.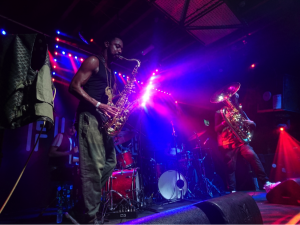 Sensing the crowd were nearly spent, they soothed our aching bodies and souls with a beautiful unamplified saxophone melody accompanied by understated percussion. After taking us to the outermost regions of the live musical experience, Sons of Kemet left us with a feeling of elation and calm contentment.
We left the venue with beatific smiles on our faces in wonderment of the uplifting experience we had just had bestowed upon us.
---
Footage:
Social links: