Submitted by: Arbiter Titan.
---
In this time of multitudinous cover bands catering to middle aged music fans wanting to relive past glories,Pink Floyd are one of the most represented. Virtually all of these tributes tend to cater for the Dark Side of the Moon onwards crowd, so when original member Nick Mason announced he was forming a band to play just early, pre DSOTM Floyd tunes, against all my prejudices I was intrigued.
Announcing just four small venue gigs in London, tickets were going to be like gold dust. Thankfully my friend, and fellow Shonk affiliate, Magical Marc had the grace to offer me his spare ticket for the second gig on Monday night at The Half Moon in Putney …..a trip to that London was in the offing.
In the beer garden at the pub, the general buzz was excitement: were the rumours of what songs were played true?, is Gary Kemp going to be any good? many questions being asked. We queued (!!) to get in to the small back room venue and waited in anticipation.
The lights dimmed and a special effects tape was playing, and playing, and playing, tension was rising, eventually when the band came on stage, any thoughts they would ease themselves into the show were soon dispelled when they started the set with 3 tracks from Piper at the Gates of Dawn: Interstellar Overdrive, Astronomy Domine and Lucifer Sam – the room exploded! I could have walked out then and there and I would have been happy.
After this astonishing start Nick Mason introduced the band as "The Australian David Gilmour" and told of a good luck message from Mr Gilmour that included the sign off "break a leg Nick, preferably Roger Waters'!"
They played an excellent 80 minute set featuring tracks from most of the early albums, several treats included versions of tracks never played live by Pink Floyd: the wonderful Fearless and an astonishing version of Nile Song.

A lovely and poignant moment was a recording of John Peel introducing Let There Be More Light form his radio show back in the day.
A few more Syd Barrett era tracks (my personal favourite time) got the crowd up and the final track, a superb version of One of these Days (see video), left the crowd a sea of ecstatic faces.
They left a last surprise until the encore, a version of the seldom heard single Point Me at the Sky, when this song failed to chart Pink Floyd decided to stop releasing singles and concentrate on album music. I have to admit I was blissfully unaware that this song even existed!!
A fantastic night all round, a great venue and sound, great music played by a strong band who didn't try to recreate carbon copies of these songs but played them with reverence and skill.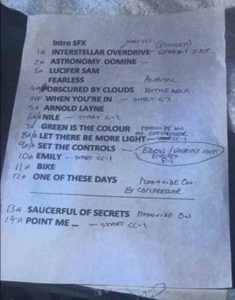 The train journey home was filled with discussion of "just how fucking great that was" and yes, Gary Kemp was very good!!!
---
NB: since this gig they have announced a European tour of this show playing much larger venues, I am so glad I got to see it in a small, intimate venue because we all know this is the best way to see live music.
---