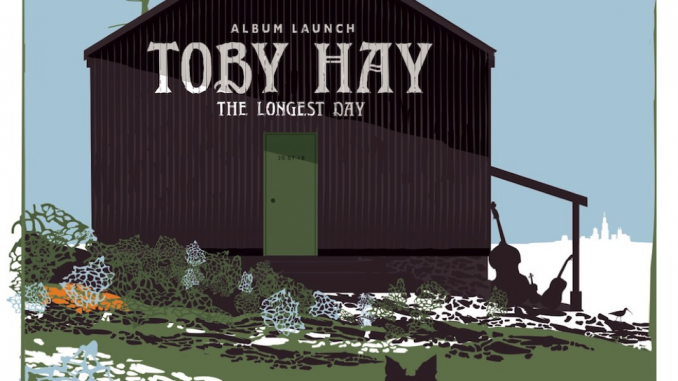 From the mind & desk of Arbiter Titan!
---
Before talking about the evening I must first mention tonight's stunning venue. St John's church in Canton in Cardiff is a wonderful venue to hold a show such as this, high vaulted ceilings, double arch altar, lit tonight in multi-colour, providing a majestic backdrop to the musical delights provided therein. A place of serene beauty.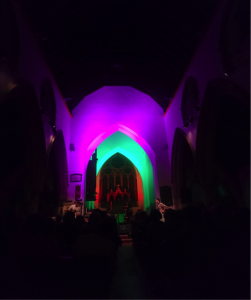 ---
Tardiness on my part means that I miss the first half of Jim's full band show…
I arrive to catch the last two tracks of his full band set. The first, Phoenix Works, a found poem written by a scythe forge worker lamenting the closure of the works. It is carried along by a thumping rhythm and a repeating motif, invoking the sights and sounds of said forge whilst Jim delivers the tale of woe in a forceful style which illustrates the despair and frustration the storyteller feels.
Lastly, Banks of Mulroy Bay, an old Irish song taught to him by his Grandparents. A man's sad lament for his home back in Ireland and the girl he left behind. This harmonium driven song and vocal delivery perfectly conveys the protagonist's heartbreak and his yearning for home.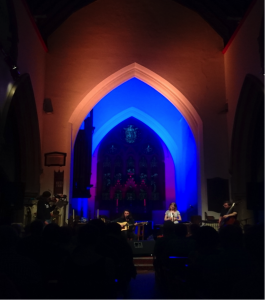 ---
In keeping with this website's ethos of Holistic Music Journalism, you could call Toby a Holistic Musician. His instrumental tunes have very descriptive titles and, not reading music but creating instinctively, his music is the aural interpretation of the thoughts, senses and emotions that he is experiencing.
Opening with Starlings, Toby reminds us all of his intricate playing, the tune swooping around bringing to mind the graceful movements of the murmurations of a flock of starlings the song is said to induce (sadly, no luck tonight!).
He was then joined by his band, bolstered by violin, double bass, saxophone and drums. I have known Toby for several years and have always marvelled at the glorious sound he makes, alone, with his guitar, with accompaniment his music acquires new, spacious depth taking on a deep jazzy feel which heightens the effect of the sound pictures his music creates. It is not better or worse than his solo playing but different. Solo his playing is like looking at a wondrous, intricate 2D drawing. With a band the drawing springs into magnificent 3D, full of depth, leaping out at you.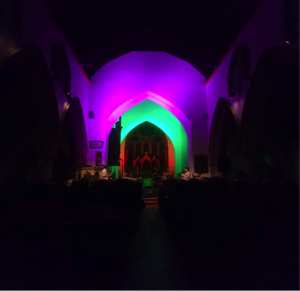 The band play a set mostly comprised of songs from his new album, The Longest Day.,The evening is filled with sweeping soundscapes which paint pictures in the mind of canyons and wide open spaces of Utah (Marvin the Mustang from Montana), long endless train journeys through never changing landscapes (Leaving Chicago) and long lazy nights in a Cornish village (Late Summer in Boscastle).
The album was recorded in a very short space of time. Relying on the innate, sympathetic understanding of these talented musicians to interpret the feeling of Toby's tunes and strike while the iron is hot, creating the music in the moment. This personal music is immediate, not overthought and contrived. To illustrate this point, the band played a new track, creating it for us onstage in the now – a beautiful thing to see, five musicians so finely attuned to each other's playing.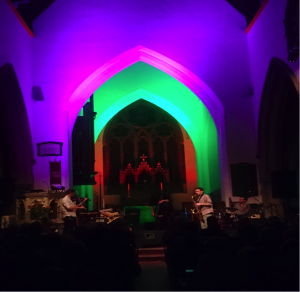 As much as his music tells tales of travel, it is his tunes of home where Hay shines. His music is about feelings and his love for his home bursts through.
Bear's Dance, a tune for his dog, a jaunty track which conjures images of Hay and his companion bounding around the local countryside just happy to be together and in their favourite environment. Curlew is a track that starts in a somewhat sombre mood, fear for this endangered bird and its habitat, but as the song enters its second phase a bold, defiant motif repeats as if to say "we will be strong and win through this struggle" – nature will prevail. The evening finished with At the Bright Hem of God, featuring his brother Tim on harmonium, a tune which conveys his pride and love for the countryside of his home. The sweeping hillsides, long expanses of fields and dense woodlands of his Mid Wales home are vividly brought to mind by this gorgeous tune.
This was a special evening, the venues splendour equally matched by the beauty of Toby Hay's music, let's hope this isn't the last time he plays with a full band, it would be our loss.