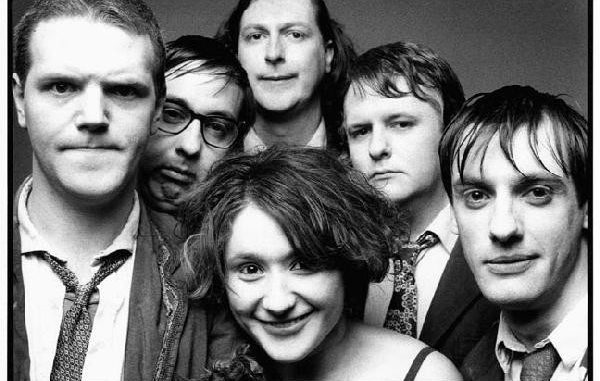 For months, maybe years I kept thinking about writing this piece, to just talk about my love for Cardiacs. Tim might have said 'there's no rush' but those words can carry a lot of foreshadowing. Today, Tim Smith, frontman of Cardiacs has passed away, age 59, having suffered for over a decade due to heart-attack related health issues.
He is no longer in pain.
So now it feels that today is the day that I will write this, and here goes.
---
I do not know of a world where I did not know of Cardiacs. When I was two, my parents split up and from that point my father would send compilation tapes of bands that he liked. On one of these was a tune called Dog Like Sparky which I was obsessed with, partially because it was a zany, carnival-esque tune about a dog, partially because it had the word wank in it and partially because my mum hated (and continues to hate) the sound of Cardiacs, with exception to two tunes so far.
Over the years my father would add further Cardiacs tunes to tapes and CDs but seldom track listings. I knew the tunes by Cardiacs because they were as distinct as they were different and I always looked forward to hearing a new one.
My taste in music kept me reasonably alienated from people in school when growing up, even friends were perturbed by the things that I listened to and as a result the only people I could speak to about music were my mum, my father and friends of theirs. In fact, it wasn't until many years later that I converted someone to the sound of Cardiacs and it was later in life again that I discovered more people.
So for many years, like many bands, they were mine.
For a long time whenever I imagined them, I always pictured my father as the front man, partially as he was the one feeding me the music but also because my father's ability to be obtuse, obscure and idiosyncratic was very similar to Tim Smith.
I used to relish the stories shared by my father and his friends, about their road trips, hitch-hiking efforts, near arrests and getting lost all in the name of getting to Cardiacs gigs. In particular a story about how my father and his friend scouted around Glastonbury trying to find where Cardiacs were playing, all to no avail. Finally they gave up and collapsed on the ground, but then suddenly heard the innocuous opening of a Cardiacs show… da-do, do-do-do-de-da-do. All pondies know it. It led them right to where they needed to be.
It wasn't until 2007 that I got to experience Cardiacs live for the first time. It was my birthday and father had bought us tickets to go and see them playing on The Thekla in Bristol. I was immensely excited. We parked the car to find that the pay and display machine was broken, so we wrote a note explaining that we tried to pay and that we didn't have time to find another machine, if there had been a parking warden he must have understood for we did not get a fine.
I remember when Tim Smith walked onto the stage and I almost melted with awe, I fell in love with their authoritarian appearance, the sashes and the hierarchy. I remember him calming the audience down like a primary school teacher, all animated, warm but stern before opening that ultra-wide muppet mouth of his, announcing calmly that we all appeared to be on a boat and then bursting into Big Ship – with no transition to settle into the show, NO, here we go. It was absolutely magnetic and, no matter how long the show was, it certainly wasn't long enough.
On the drive home I remember father pulverising the dash board as he acted out all of the heavy drum sections from The Duck & Roger The Horse.
Naturally the first thing we did when we got home was purchased tickets for the Clwb Ifor Bach show in Cardiff a few days later. A: Because they were playing, B: it was close and C: it turned out they weren't playing any repeats at any shows so we had to hear more!
Tim opened that show by asking everyone in the crowd to 'raise their little paws' – but once we had all lifted raised our arms into the air as per his instruction he remarked that 'they're not paws, they're hands!' before losing his train of thought as he talked about soft puppy paws and how they would struggle with hot pavements.
Everything else is now a blissful blur, I remember Dog Like Sparky, I remember Trademark and I remember Dirty Boy and the total awe that I felt as I watched the vocalists hold that single note at the end for about 20 minutes, it blew my mind!
Most distinctly of all, I remember Is This The Life? Which in itself created a very profound moment for me, for at the absolute height of the solo my father and I looked at each other in total elation and had no choice but to blurt out a yell of sublimity and as we did, we embraced. At that moment, our inconsistent and underwhelming father and son relationship all seemed worth it, like we existed purely for that one and only transaction. I'm sure we mentally acknowledged that should either of us not exist, the moment would never have happened, and so, that is why we did exist.
At the end of that show I remember hanging around outside in the hope of meeting Mr. Smith and part of me, to this day wishes that I had chosen to hang around longer.
When their 2008 tour had been announced I remember that I had made plans to get to every single gig of the tour so that I would hear as much as I could and make up for lost time, I remember being excited about an album coming out, and I remember the sadness of hearing of Tim's heart attack.
From then until now and until I cease to be, my mission has been to share Cardiacs with anyone who will listen and to some that won't. I stop anyone in their tracks when they try and explain the music, or rationalise or compare, 'no' be quiet. Enjoy it or hush. This isn't a band, it is a way of life, most people had no idea of the value of the thing that I was showing them and I think a lot of pondies feel this way. But that's okay, we don't need to share with the likes of them.
Despite my childhood issues of sharing music, or not being berated for my choices, I have since found some wonderful, fellow Cardiacs lovers, including some who were far closer than I ever thought.
Songs for Ships and Irons will forever remind me of a trip I took to Windsor, Dog Like Sparky will forever remind me of my father showing me his little dance he invented for it when I was about 5, Is This The Life? Will always remind me of that moment at that gig, as will Dirty Boy, Jibber & Twitch will forever remind me of driving to car boot sales with my friend. There are so many life moments and even non-moments that I can attribute to the utterly unique, beautiful, addictive and personal charms of Cardiacs.
My worst memory is having a CD with Vine by Spratley Japs on it but NO track listing, so when I lost the CD I went through the Cardiacs discography to no avail, it wasn't until hmm, 15 years later when I was given another compilation and it was on there… ahhhhh, frustration!
And who can resist a naughty giggle at knowing of Tim Smith's involvement with the Howlin' Willie Cunt album and that very distinct and incredible Tim solo on Country Boy, the kind that you get excited about as the track plays… his voice comes right through during the 'a little bit of gravy helps the dog like my balls' – oh Tim, you wonderful scamp!
If you don't know them, please take the time, they have a tune for everyone, I promise you – you might have to find it, but it's a fact that there is a Cardiacs tune for every single person on the planet. Tim made sure of it, I think he was everyone's friends, even people who were mean, like the NME, I'm sure he wrote for them too.
---
From me (Duke) and everyone at Shonk Towers, farewell Tim, we are heartbroken at your departure but we are comforted that you are no longer in pain or trapped in a world where you cannot do what you did for so long and so well. I promise to keep flying the Cardiacs flag and sharing the love that you brought to the world, as I know all other pondies will – you never had fans, you had a family, you have a family and we will carry the memories and the gifts forward until we meet again. You were heaven born and ever bright.
'it's just pop music' – Tim Smith.