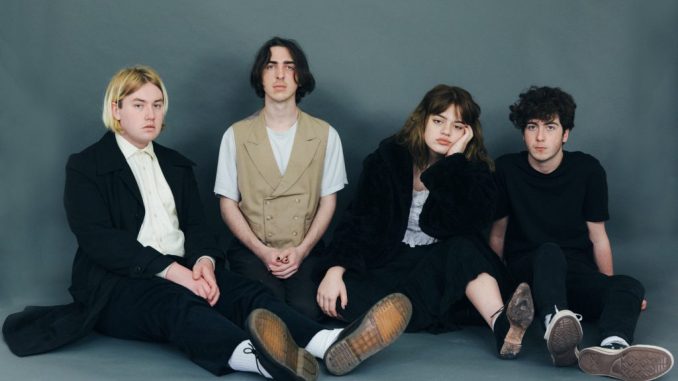 [Taken from Bristol Psychfest 2018]
Wych Elm provided refuge in that I could now reduce my dancing speed by 27% percent as I was caught up in their delicate, if not at times borderline collapsing and incredibly boognish sound. Like a clutch to a flywheel I was running at one tempo and they were running at another and suddenly I was being slowed down by a passive aggressive force, I didn't notice it until it had happened but it was fine – happy to oblige. Wych Elm contrasts a heavy and confident rhythm section that delicately balances sporadic guitar that would provide the perfect soundtrack to a manic person trying to find their car keys whilst in an immense hurry. Incorporating influences drawn from 90s grunge, indie and Psych they create the musical equivalent to the finite point before a mental breakdown begins. They are on the line between sane and utterly crazy, with lyrics that could come from the mind of someone holding in their dark angry thoughts whilst trying to navigate a supermarket. They made me angry, depressed, motivated, inspired, sad and mad all at once. There was a sense of glorious apathy in that the band had an aura that said 'we don't really care if you like us or not, we're doing this and that's that' and that made me love them even more.
[NEW WORDS]
Since that fateful day that two messy music reviewers stuck around to see a band referred only as 'special guest' on the itinerary Wych Elm have been carving a justifiably deserved musical journey, playing Green Man, 2000 Trees and Simple Things. Their music has remained consistent, reminding us humble listeners that they're perfectly comfortable and rightfully so. Their latest release Rabbit Wench is the problematic cousin that's coming to the family reunion, you know it's going to be trouble but you can't wait to find out what kind… it's a restless kind of comfort, like confiding in a diary no one is going to read. The guitar is like an itch you can't reach, a joyeous endurance that doesn't react how you'd expect, with tempos changing where and whenever they please, it's impossible to settle down so your ears remain alert and paying attention. It offers a pleasurable discomfort, addictive and revisitable at any given hour. It's music that says 'I don't care about you' 'I don't care if you're listening or not, it's here anyway, it exists, deal with it, or don't' – a magnetic apathy that's somehow charged but fiercely neutral. In a way, I feel any validity is worthless because it validates itself, assures itself. How it should be. Purest form. Happy days.
With dates for their 2022 tour now appearing and the availability of their music on good old vinyl we highly recommend you save dates / buy tickets and invest in their merch. You will not be disappointed.