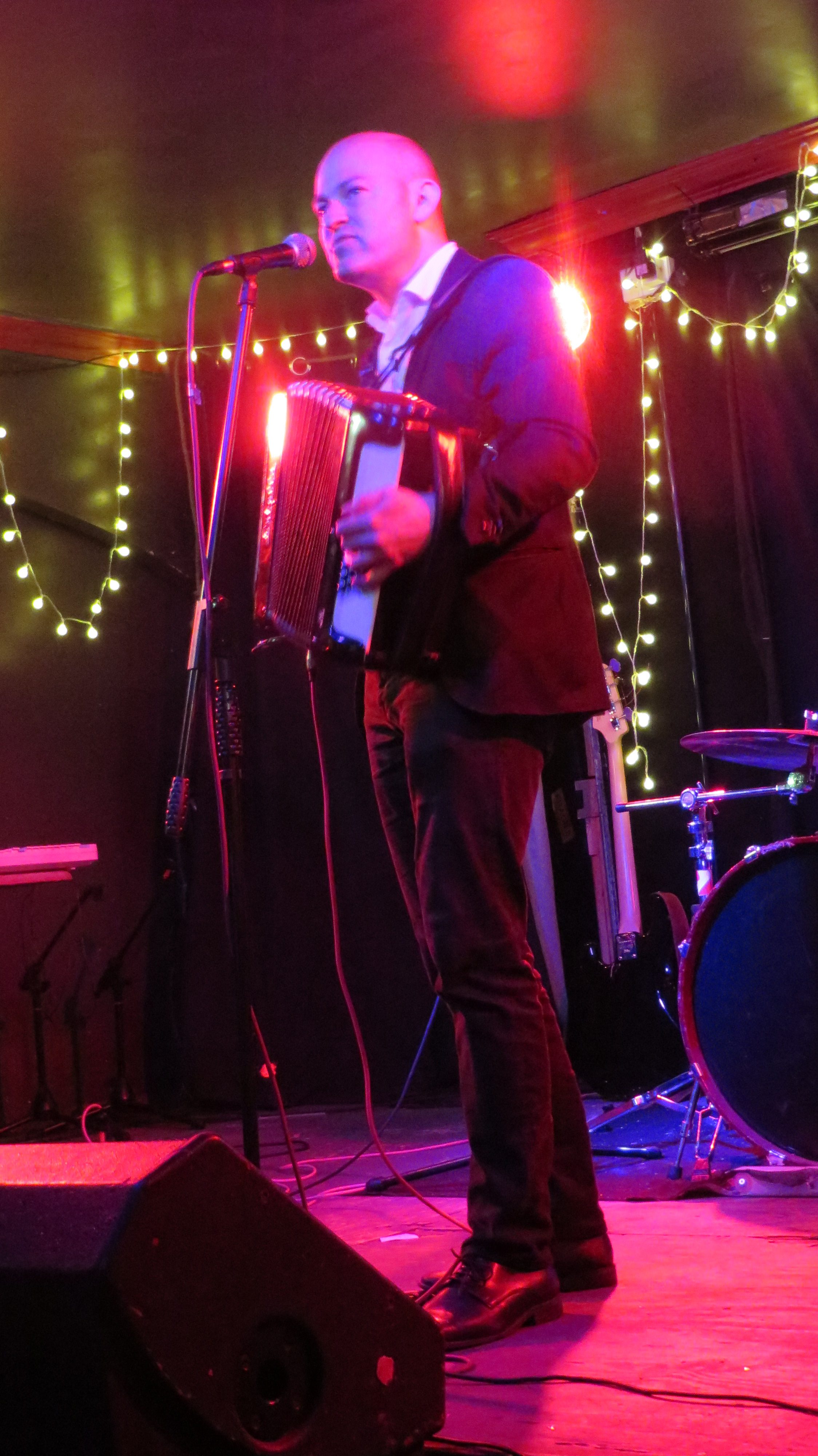 Act one, night two of the three-for-three Le Pub challenge!
This was a night I'd had a ticket for for some time, but despite this I was still going in ear-blind, familiar only with Cardiff legends Quiet Marauder!
First to take to the stage was Geoff Berner, a lone gentleman of Canadian origins standing with an accordion over his shoulder and a drink in his hand, this image alone is enough to tell you that the night was going to be special, nay it was going to be laudacious, one to really stick in the nooks and crannies of one's mind for years to come. He began to speak with this beautiful, cutting, Lynchian accent that made us pay attention, he told us stories of Canadian Folklore, their political issues and the wonders of travelling the great Canadian road, in a manner so potentially absurd that it had to be true. Like an uncertain uncle who has embarked on an inappropriate anecdote at his niece's wedding he persevered, often about to start a song before remembering that there was more to tell. And there it was, that beautiful sound of laughter that starts off awkwardly, when the audience don't quite know how to respond and as the set progressed the laughter became refined and we were on the path that Geoff Berner wanted us to be on. Following him down a sweet little Canadian suburb, marching along behind him as he serenaded us with his fantastically combined and uniquely unique blend of Klezmer influenced anti-folk that picked apart the picturesque neighbourhood that we were standing in.
The warm tones 0f the accordion provided the immaculate back-drop to song-stories (like songs but with stories) that provided the fine detail, pointing out the flaws in our fucked up but beautiful world. His latest album Canadiana Grotesquica is a perfectly assembled collection of social commentaries, tales and experiences that blend klezmer with an infusion of indie-folk qualities that make it ultimately GEOFF BERNER. Featuring a tapestry of instrumentation and guest vocals the album is a full sounding contrast to the minimal yet delightfully warm set that he delivered. One thing the album doesn't have is his exceptional dry wit and devious tales of song origins that we were blessed with, that just goes to show how much you can miss from a performer if you only ever listen to them on tape or disc, the importance of live music isn't just in seeing the songs played out in front of you, it's all the little fiddly bits in between, the herbs and spices to a well cooked live-performance-soup if you will. 
"Let's have another benefit for the victims of the symptoms,
Where it's forbidden to speak of the disease." – Super Subtle Folk Song, from Canadiana Grotesquica 
We had an insightful and enjoyable conversation after his performance (and a few more through the night) discussing community inclusion, the history of The Shonk, fictional german football teams and our mutual friends The Burning Hell, it all made for a very cosmic evening. "To get people involved you just have to go into the street and start bouncing a ball around". It was certainly a discussion that I felt I had learnt something from, like how cool Canadians are all round for example.
Geoff's set was the perfect opener for the bizarre evening that Tuesday proved to hold and I do hope to see him perform again. You should too!
His new album 'Canadia Grotesquica' is available for purchase and download, you can access it along with his previous works by clicking here.
Read part two here