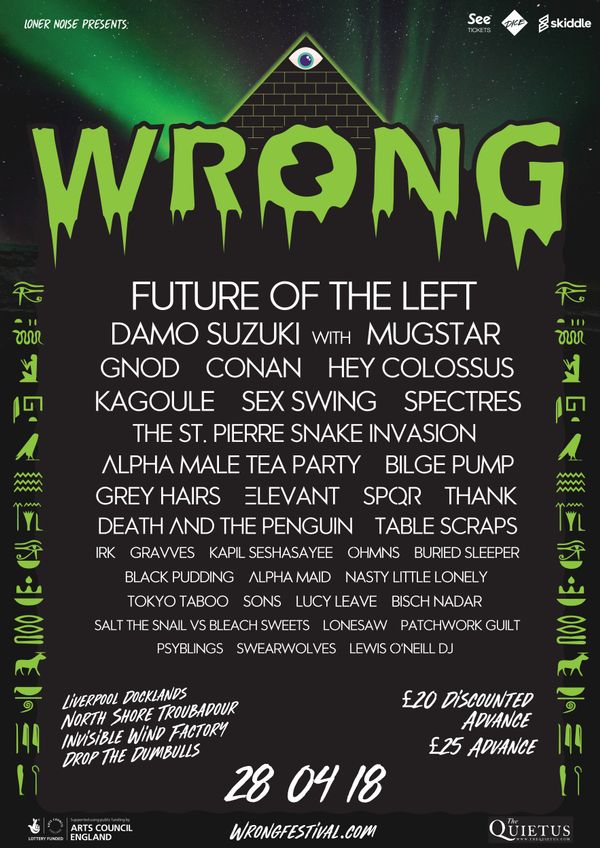 From the desk…
Of our The London correspondent 'Magical Marc' comes his documented experience of Liverpool's WRONG FESTIVAL:
---
After the success of last year's inaugural gathering, it's good to welcome back another barnstorming line up for lovers of the scuzzier, fuzzier and downright noise-mongering edges of outsider music.  The location for this one-dayer couldn't be more fitting; the North Docklands location and surrounding streets being a (black) mirror image of the Baltic Triangle's Camp and Furnace setup.  Manoeuvring around the multiple taxi wrecks and somewhat sketchy entrances of the three venues that made up the festival showed how neglected this side of town has been in Liverpool's recent regeneration drives but the lack of trendsetting and 'creative hub' pop-ups was far more fitting with the mood of the day.
After starting the day with a ballast-setting cup of tea and cheese toastie at the local café (try getting the equivalent in the Baltic for £2!), we start at the Drop The Dumbulls venue to see Brighton-based brothers Lee and Nick Meldrum who make up the riff-sodden beast that is SONS.  The duo's Guitar/Drums combination initially strikes the listener as a Slaves or Royal Blood clone but Lee's blood curdling roar of a voice and Nick's ability to flick between a loping groove behind the tune and punching the rhythm through on the more aggressive parts means there's far more muscle to their sound than meets the eye. 'Rise' is one of the key tracks to pick up from them.
'We're from Scotland, but don't hold that against us', proclaim Doom merchants BURIED SLEEPER.  With a sound as monumentally epic as they have, there's no room for any reservations about their origin. Lurching from tiptoe-light to slab-crashing might not be the newest trick in the book but these guys have got the knack of getting it right for their set, largely taken from new LP 'Obsidian'.  It's also amusing to see the pyrotechnics getting an airing so early in the proceedings, with two 25-foot-high whooshes of dry ice gracing either side of the North Shore Troubadour's daylight-filled stage with seemingly no particular timing attached.  Still, it does lend an air of calamity fitting to the occasion and guttural crunch being played out.
Moving on into the afternoon, North-Wales based trio GRAVVES have a half decent audience for their set considering their spot but struggle to fill the cavernous space of the Invisible Wind Factory with any decent volume (the inevitable curse of the early slot on the main stage of any festival) which results in their usually pummelling sound being a little diluted.  Nevertheless, songs from their latest 'Oh, The Joy' EP seem a little snappier than their previous outings and we'd wholeheartedly recommend catching them in a smaller venue where their sound can push out a little more dynamically.
Next up is ELEVANT, another trio containing frontman Michael Edward (Singer, Guitarist and a key person in bringing the WRONG festival to life) alongside Hannah (Bass) and Tom (Drummer), who seemingly get the volume up a notch and give new track 'Nowhere' from forthcoming EP 'Her Come The Cold Sweats' a good blast alongside some old favourites.  They certainly use the expanse of the stage to show this is no passing festival slot for them and fair play to Edward himself for getting excited about the bands to come.
A hop, a skip and a jump back to Drop the Dumbulls stage to watch the frankly magnificent BLACK PUDDING follows.  Leeds trio Sam (Guitarist), Jake (Drums) and Shane (Bass) shake the venue up like a snowglobe, scattering shards of screech and beats across an enthusiastic crowd, almost loping heads off in the process.  Similarly, GNOD take no prisoners on the main stage starting with their latest (15min+) epic 'Donovan's Daughter's' and prove that, despite being over a decade old, they show no signs of flagging on either the songwriting or live platform.  If anything, they're just getting started and new LP 'Chapel Perilous' should receive the same plaudits as their previous 'Just Say No..' LP did if this performance is anything to go by.
As the evening creeps in we watch the early part of the HEY COLOSSUS set, their latest line-up and three-guitar onslaught being every good if not better than previous outings.  However, there's no missing the chance to watch DAMO SUZUKI and MUGSTAR in a spontaneous collaboration that fulfils every expectation- euphoric peaks and motorik relentlessness, the band fizzing and whizzing around Damo's seer-like declarations and protestations.  All in all, a magical day and I haven't even time (or review space) to mention FUTURE OF THE LEFT, THE ST PIERRE SNAKE INVASION and CONAN's 1.30am set!