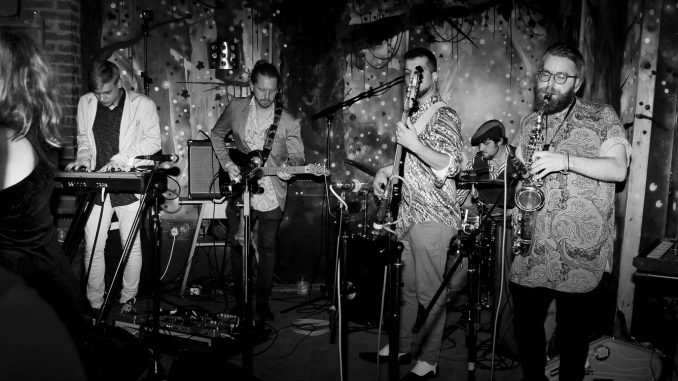 Prudent Primate…
The sound these guys produce do not correlate with the song titles they have applied, but when listened to there is a chance that this band will transport you out of the immortality field and into somewhere that's as dangerous as it is groovy, a little journey into the deep unknown. Pushing you just out of your comfort zone but not waaaaaay over the line.
If memory serves correctly the track we recorded as seen below was called 'Bin Juice' or something similar, I wanted to write it down but I had replaced all my stationary with drugs.
Following on from Mermaid Chunky, Prudent Primate (kudos for alliteration) further affirmed The Shoracle's prediction that 2018 is the year of the saxophone.
What we failed to realise is perhaps this set was the 'safe zone' we had allocated prior to the cathartic overwhelming chaos that was to follow (wait for it…)
The smooth, soully, funky, flowy molasses poured out from the stage taking us on a deliciously sweet funkadelic journey, building and building until there was nowhere else to go. I mean, just listen to them, that's gert lush. 
Another wonderful ear experience, we look forward to finding out more about this band and hopefully seeing them again!
We have been informed that they have just released their first single which is available
here
!
Their Facebook page can be found
here
!