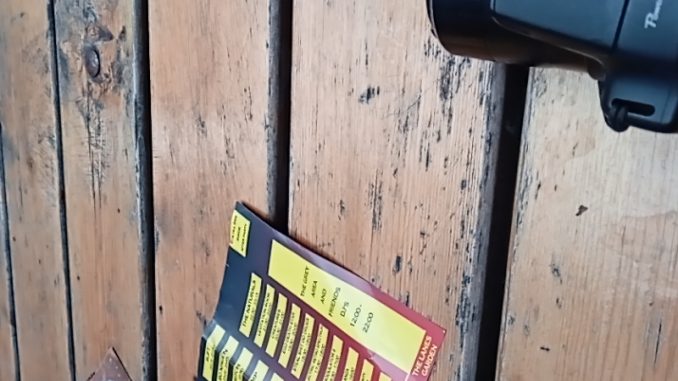 Our glorious day of absorbing some incredible music from all around the world was in full swing and after a quick stop at Pret A Manger for some nourishment and sustenance it was time for us to continue. The group were now in an assortment of locations so we took this time to go check out a band based solely on the name.
Hailing from the spiritual twin of The Shonk's hometown Newport, S.S.D.D had crossed the vast Atlantic ocean all the way from Seattle to bring us a raw and delusious performance. They gave us an immaculate spit and sawdust show (literally on the former) inspired by four decades of west-coast stoner punk, fused with grunge, a dash of surf / slacker and a healthy dose of whatever it was The Velvet Underground were taking. They're a polarising reminder of great music from back in the day, they don't stray too far from the line of familiarity but they make you pay attention and wake up. The singer absent mindedly kicked over beer cans whilst pacing the stage, reaching up to the heavens and channeling a gospel of vocals alongside the meandering, casually driving accompaniment of the rest of the band. He seemed mildly possessed, with a determined awkwardness as if he had no control over what was happening, I liked how they barely observed the audience, it was a way of telling us that they'd perform the same regardless of numbers. Chances are they've travelled in time from about 40 years ago to keep us in touch and remind us of the glory of the nihilistic East-Coast grunge fusion that exists in the world. They have provided us with something that we didn't think we knew but now we can't live without. They're the metal clothes pegs of music, plastic will be forever inferior.
We took a punt on them purely for the shits and giggles of their name but instead we were bestowed with one of the best shows of the day, a band with lots of repeat listening appeal and one that gives me a desire to see them again for sure!
---
Last year The Shoracle sent over a couple of Mattiel tracks for me to listen to, within thirty seconds we knew that she had stumbled upon someone special, the type of person who was likely put on this world to sing and perform and blow people away with an incredibly unique voice, the likes of which you have to hear. You know when a performer is singing from a real and raw place and Mattiel is no exception that rule, you feel every word as they're delivered with a utter clarity from someone who is whirling around the stage, moving to the shape of the accompanying music.
For R.E Morse who had been dancing in his flat to Mattiel that very morning it was a very exciting experience, he and so many others sung along to a list of tracks that they were all too familiar with, becoming part of the very energy that was charging the performance before them.
She delivers passionately and truthfully with the veracity and angst of a punk but with the soulful and addictive delivery of Janis Joplin. The exceptional musical backdrop provided by the backing band spans an array of the early psych archives drawing from many jars of influence – Each track remains true to their unique and wonderful sound but remains ultimately different, standing out in its own way each time.
---
Three piece, offering a Californian take on psych that seems to amalgamate the classic sixties garage psych sound with the indifference and passive aggression that one could imagine being fluent in after living in LA for any period of time. Everything about this band gave off the vibe of 'yeah, whatever' but in a way that's agreeable and contagious. They provide a wonderful soundtrack to being mildly livid without going over the line and screaming about it. The conjure thoughts of neon signs and shady bars akin to the Roadhouse from Twin Peaks, in fact, if there was every another season of Twin Peaks they'd make the perfect band to showcase in one of the episodes.
They present the idea of three tenacious musicians desperately spending as much time as possible in a garage, working, refining and channeling the passionately apathetic rockabilly-psych sound of the sixties whilst hoping that they don't get told to KEEP IT DOWN by a patriarchal, ex-military type who believes rock music is the devil and the band should all go and work at the local 'centre' or something like that.
There is a constant air of defiance and sticktoitiveness within their sound but it's convoluted, intertwined within it is that feeling of apathy and 'why bother' so subsequently each track comes across as a translation of the inner battles that we have with ourselves on a daily basis, the 'why should I bother' vs 'why wouldn't I try?' – sadly I have never lived in L.A but I would think that these feelings are exacerbated by living in a world of phonies, try-hards and opportunists – and I bet it's very difficult to identify who is who and THAT is what the music of L.A Witch presents to me. In a rough and roundabout way, to me it's like taking the themes and discussion points of Bojack Horseman and presenting them through the same filters that David Lynch uses in his work. Being a fan of all of these things I simply love L.A Witch and will be happy to see them again!
---
One of the great things about Astral Fest is the diversity of music from all over the world, not least of all is The Cult of Dom Keller hailing from the glorious county of Devon (and a bit of the Midlands). There's something special about a psych band hailing from Devon, don't get me wrong there are probably lots of them but I've never come across one before. Perhaps my childhood memories of Devonshire holidays, Gemini Radio and Shaldon Regatta is creating some sort of bias here but I don't care! The Lanes was absolutely packed out for these guys and I had to take sanctuary between a pillar and a large man, most of The Shonk family were recharging in the garden but as a dedicated purveyor of music I wrestled myself in and routed my feet to the ground to bring you some footage and words.
The Cult of Dom Keller have one of those sounds like their playing in a basin somewhere, everything swirls up around them and engulfs you, their sound bounces off of walls, washing over you like a nice deep bath. There's a quality to them that reminds me of bands like Kitchens of Distinction where the clashing of reverb and constant drone of guitars collides to create a full and enveloping sound that, somehow also has the ability to, at times feel sparse and spacious. They're not afraid to throw themselves into rabbit holes of sonic obscurity, one moment you're listening to some Doors-esque old school psychy bliss that offers as much structure as it does aural chaos and the next minute the lead weight of doom-fused, sludgy guitaro-fudge weighs on your shoulders and you start to wonder if you've wandered into a Pigs x7 sort of affair.
They have quite a back catalogue of released music so far and from what I've dipped into they're not afraid to get experimental and try new things, there's a jam like quality to some of their recordings which gives an extra layer of 'rawdom' to their music, where it lacks in polish and over-production it more than makes up for in feeling and depth.
I look forward to seeing them again, preferably without being wedged between a pillar and a large man, with enough room to jig and the ability to actually see them with my human eyes.
---
You know it's going to be a great day if you're seeing Bo Ningen. As little Ethan scurried off to watch Thurston Moore I reminded him of the importance of returning to The Lanes in time for Bo Ningen, I explained that missing them for anyone else, even the great Thurston is a sackable offence and I am pleased to report that he is still with us!
My first experience of Bo Ningen was last year at Green Man, they played in the Far Out tent which summed up the experience perfectly, I don't know how many people were there but it was a few thousand. At Astral Fest it felt like the same number of people were trying to cram themselves into The Lanes to experience the sheer WOW that this uber psych-frantic band of energetic tyrants were about to deliver.
The kaleidoscopic visual backdrop of The Lanes ramped up the sensation of being on an incredible trip as they tore shit up. And I mean TORE. IT. UP. Clearly the size and location of the venue meant nothing to them because they give over 9000% percent wherever they are. Despite feeling like canned fish, the audience who, let's not forget have been ambling around in the hot sun and muggy city weather all day, witnessing an incredible array of music, getting very sticky and tired and considerably more drunken were going absolutely ape-shit mental crazy. Bo Ningen's ability to drive their audience into an absolute tizzy of consciously combined filthy carnage addicts is without a doubt one of the most effective – If anyone was due a second wind this is when it was going to kick in!
All we could do was give ourselves over to them as they defeated us with a torrent of psych-warfare, the chaotic light show, the back drop, the sentient hair, long tangly jumpers, a bassist that defied all manner of physics, hair that defied physics, areas on the sonic spectrum that had never been heard before, it was all utter bonkers and it filled us all with a high that no drug could accomplish.
---
C'mon, you must have known that it was all going to come to this. To the big one, to the ultimate finisher, to the great Toulouse Trio, the boys, my boys! Well played Alex, putting them on last, good call. You have no idea how important it is for every single person on the planet to witness Slift in action and this time the organisers were taking no chances. Last year when we initially discovered one of the greatest current bands on the planet they were the second band we saw at Psychfest. We, being smart individuals appreciated what we had witnessed and since then we have had quite an adventure with Slift from getting them to our hometown to watching them cook pasta, it's been a hoot.
Slift possess an incredible feeling of determination that shows through their nitrous fuelled, turbo charged sets of sheer psychotic intensity. They're like a drag race with no end line, from the second the first sound is emitted from them they go out, all out never coming back kind of out. There are no spaces to breath and no way out, if you're not a veteran of the psych game you're about to be, or you're going to die, either or. If you make it to the end and then die that's okay, because the last thing anyone should see before their demise is a live set from Slift.
The Duchess, Little Ethan, RE. Morse, The Arbiter, Green Anne, Mr. Casey, we were all there at the very front, by the big speaker and despite our exhaustion, our combined sweaty moisture, the clothes hanging off of us, the bodies that turned quicker than the eyes, we were pumped to have our faces melted off and our minds blown.
To be honest, we are a little tired of how much we have implored you all to experience Slift one way or another, if you haven't already, what are you doing here?
Their set was nothing that we had heard before, nothing short of absolute pure psych perfection as the three of them produced a never ending sonic boom of in-your-melting-face veritably addictive ear art. Again, we cannot emphasise the importance of witnessing this band in the flesh! You can watch more videos of them on our Youtube channel, but they do not do them justice!
---
The room echoed with the remnants of the last note, bouncing and reverberating from corner to corner, still clearly hearable despite the warm sensation of tinnitus. It had been a long but rewarding day, alas the last of our energy had been sucked out from during the blissful danceathon to the Toulousain trio whom we love so much.
We regrouped as the crowd began to scatter into the night, returning to the well soundtracked sanctuary of the courtyard to get some air and recalibrate our frazzled brains. Once composed, or as composed as we could be we began the long jaunt back to Shonk HQ. We ambled along Gloucester Road, through the aftermath of St. Pauls, slaloming between late night stragglers and burger consumers.
Despite our lack of physical energy we all felt musically rewarded, once again the folk at Stolen Body Records and all involved had worked tirelessly to provide a great day and we had had an amazing day. An awful lot of effort goes into organising these events and ensuring that everything moves like clockwork during the day, as punters we experienced nothing but a flawless day, the only issue was the great array of DJs in the courtyard who provided constant musical distractions that led to wanting to stay there longer than we should have!*
It was a tremendous day, like last year but amplified by the attendance of more members of The Shonk family and fresh acts to be overwhelmed by. We encourage everyone to get tickets for an all-dayer near them, not only is it a cost effective way to see at least a dozen bands but they're convenient to get around all you'll have your mind blown time and time again.
Sadly, we have received news that for now, Astral Fest has been put to rest. The ugly head of business has reared its ugly head and unfortunately it is not currently viable to continue. Having said that, Stolen Body Records continue to promote amazing bands with live shows in Bristol – we've been to lots and we will continue to do so forever, hopefully we will see you there!
---
* It was of course our fault entirely to allow ourselves to fall victim to recorded music during a day of live bands, we take full responsibility and absolutely recommend taking time out of the day to chill to non-stop grooves whilst remaining hydrated!