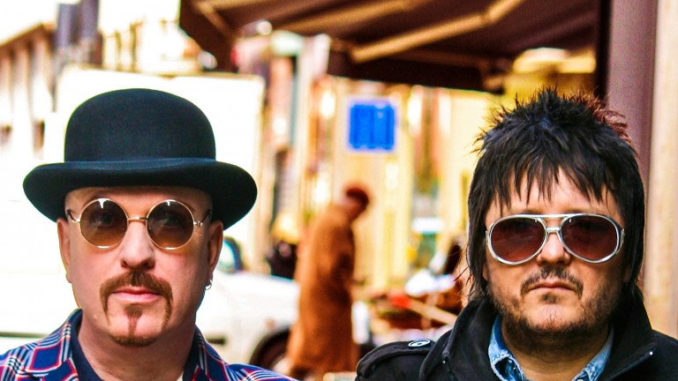 Exceptional multi-interconnected super genre breaching pop-plug mega band destroying all notions of traditional construct in 'song world' with their insane live performance. (Original review lost in a fire) – Note; in this video the drummer had less than a fortnight to brainiate the whole set prior to live skin-hitting, he gets the drum equivalent of the Paul Hollywood handshake. I still have his broken stick. 
John Poole and Willie Dowling present a cornucopia of genre melding, hook utilising power tunes that have you thinking 'ooh this reminds me of so and so' whilst relentlessly dancing and singing along. It's true, a small facet of one of their exceptional tunes would steer its way into your ear and make you think of someone, maybe Queen, maybe Squeeze, but the all important thing to remember is that whilst these sounds do remind you of something you've heard before, the way they're arranged, presented to you and utilised in the context of The Dowling Poole is something only they, as a band are capable of doing. It's not like someone has taken snippets of other tunes and strung them together, what we saw here was an exceptional example of what professional, capable and really cool song-writers and arrangers can create. Each piece said 'yeah we know the ingredients and we know how to use them' and as the audience we had to agree by moving, singing and whooping. 
There's too much pressure nowadays, musicians are clambering over one another to sound like so and so or play guitar like such and such and when you go and see a really cool band and you see that they play what they want, how they want and care not for what you think, that's when you realise that it isn't important, the best music comes from making it, uninhabited and it feels like it's few and far between now. 
These guys are as insanely capable as they are fantastically friendly, funny and charming. You'd expect nothing less from guys who have worked with the likes of Ginger Wildheart, Tim Smith and of course each other! The most fantastic aspect of being in 'The Pond' is that when you go to a gig involving other Pondies it feels like you're going out to see old friends, people you've not seen for years (if not ever), there's no pressure to try and fit in because it's a very accepting, chilled out and warm environment. 
These guys are truly legendary, they're not above their station yet the level of musical genius they possess between them would almost make it okay for them to adopt the dickhead persona that seems to come with it, but they don't and that's a rare and wonderful thing in this day and age. These guys just want to entertain you and they're really, really, really, really, really, good at it!
I saw John Poole at the Spratley Japs gig last year and every time I passed him I said 'good to see you again John', he looked confused, I liked this.
---
Links