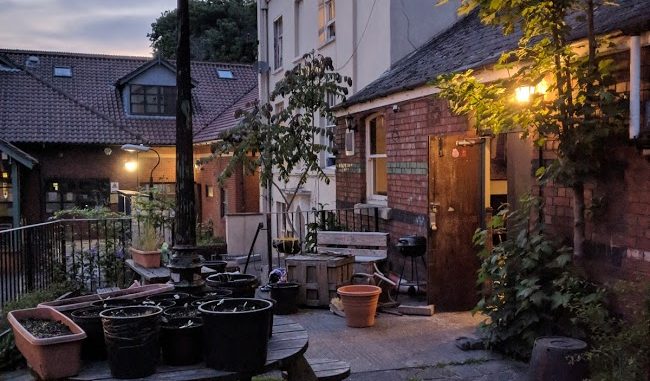 Tucked away in Montpelier amidst a venous of narrow roads that climb steep hills, hidden in plain sight aside a surgery carpark is the magical haven that is The Old England.
Akin to the shop in Discworld that changes location it's like someone has taken a country village pub and plonked it in central Bristol and allowed the landscape to stretch out around it. It's odd placement certainly adds to its charm and mystique which is only amplified when you walk in to find that once you cross the threshold the entire concept of the outside world leaves your body and all that exists is where you are at that moment in time.
It's a curious rabbit warren that feels like you've entered someone's home but you know them well enough to do so. It feels like you know everyone that's already there and yet to arrive, rather than a night out in a pub it's a semi-regular family reunion where you clock familiar faces that you can only place to the times that you've been there.
To date every experience at The Old E has been memorable and cosmically awesome – our first experience was when we went to see Chris Forsyth supported by Dr Chan which was a wonderful guitar blitz spanning the vast soundscape of psych and mystery.
I had an exceptional time whilst in an exquisite frame of mind when we returned to the infinite larder of good times to see Taman Shud and Acid Cannibals – A night that has been etched into the backs of my eyes!
I experienced my jazz awakening when we went to see Shatner's Bassoon along with Prudent Primate and Mermaid Chunky, perhaps the most surreal and eye opening experience of them all. I have been an aspiring jazz maverick ever since! (Although I cannot get any sound out of saxophone whatsoever!)
Our most recent excursion took us back to The Old E to catch Sunflowers, a band we were all too happily exposed to thanks to Stolen Body Records and their Bristol Psychfest. The duo followed after Yo No Se, a brutal doom rock band that scooped us up and threw us to the winds of hell!
Edit: We've been back a bunch of times since, to see SANS, for the Astral Fest pre-party, Stephen Evens and more!
This particular night was popular with the local crowd surfing community and every time someone was lifted up to coast the sea of frenzy there was a sense of people thinking 'ooh mind the lights' – the atmosphere is always so comfortable and enjoyable but there's a sense of caution, as if none of us are really meant to be there and at any given point some sort of authority figure will turn up and demand that the fun stops.
I particularly love the garden at The Old E, it's a tiered home of multiple conversation pits taking place around the plethora of picnic benches. It feels like sitting on a vast shelf, raised slightly from the world around it but met with a great brick wall that gives it a sense of cosiness, a last grassy vestige of safety in the rapidly developing urban world.
*It now features a lovely fire pit!
My only regret is that I don't get to go there as much as I would like, they host a weekly jam night where you can take an instrument and get involved which is something I'd very much like to do – it plays very much into the ethos of The Shonk and our Holistic House Band.
* We still don't go there enough but have been a lot more since!