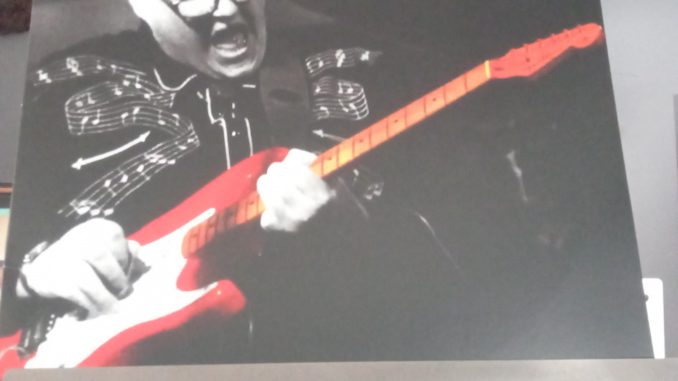 Every now and again you come across a musician who not only leaves you in awe but also makes your blood boil due their incredible talent. James Oliver is one such person, it's almost impossible to believe that his talent hasn't involved a deal with the devil but we all know it's because he actually practices whereas people like me don't!
I first encountered James when he was playing in Welsh rock and roll band GLAS, a recommendation from The Oracle. We went along to see them perform at The Five Alls in Chepstow where they blew the house down and I watched in awe as James' fingers defied physics on the fretboard. In a brief discussion afterwards I asked him what his secret was 'just practice mate' he said, confirming what I knew all along… he had sold his soul to the devil Crossroads style.
For a few months I sent out a video of the band performing Killing Floor to everyone I knew who had so much as a mild appreciation of guitar players 'You just gotta see this guy, he's insane (at playing)' sit here, watch this Youtube link.
I bumped into him during Record Store day, he was telling someone that he was in a band but the person didn't seem too interested so I had to interject to make sure that this innocent member of the public didn't make the mistake of not checking out Mr Oliver's talents. I truly hope they did!
The last time I saw him performing was at Aunty Al's in Chepstow, once again in GLAS. The next time we would cross paths he would have made the break into full independence as the James Oliver Band (or J.O.B), fully embracing the career musician way of life James Oliver has had an itinerary of almost a gig a day, providing more envy towards musicians who have to do other things in the interim! His level of dedication is both awesome and enviable.
---
Twang! is James Oliver's debut album since going solo. Recorded in Blackwood, the spiritual home for welsh rock at Red Rock Studios, Twang! includes some incredible talent making up the studio band allowing the end product to be a testament to rock and roll and blues over the last century.
There are 11-tracks in total, some you may recognise and some are originals which do not stray from the traditional structure of energetic rock tunes. Despite the traditional aspect of the music, the album is fresh, energetic and worthy to play back-to-back a few times.
I'm certainly not going to claim to be an expert in blues and rock and roll, but I know what I like and this falls into that remit. The production is perfect, it's polished but not overly so, allowing the much needed grit to come to the forefront.
James' talents don't stop at ultimate guitar either, he dons the roll of vocalist, another crisp feather to his cap, great delivery and you can easily imagine him singing into an old Western condenser microphone. The whole thing has taken me back to my Joe Meek obsession days and I've had to drag out my Moontrekkers and Tornados singles!
Be sure to check out this album and rest assured that James Oliver will probably be one of the first, if not the first musicians to book a live show because I think he is addicted to them quite frankly.
If you follow him on Facebook you'll be able to enjoy Twang Tuesday, as well as tutorials, licks, dedications, tributes and dozens of other show-off videos that are enjoyable and painful at the same time. You can get a real feel for how knowledgable he is of every single bluegrass tune from the last 100 years!
Links for James Oliver are here:
To acquire the album follow the Facebook link, vinyl is limited and has to be ordered directly from James, messaging through the page is the best way to get your hands on one!