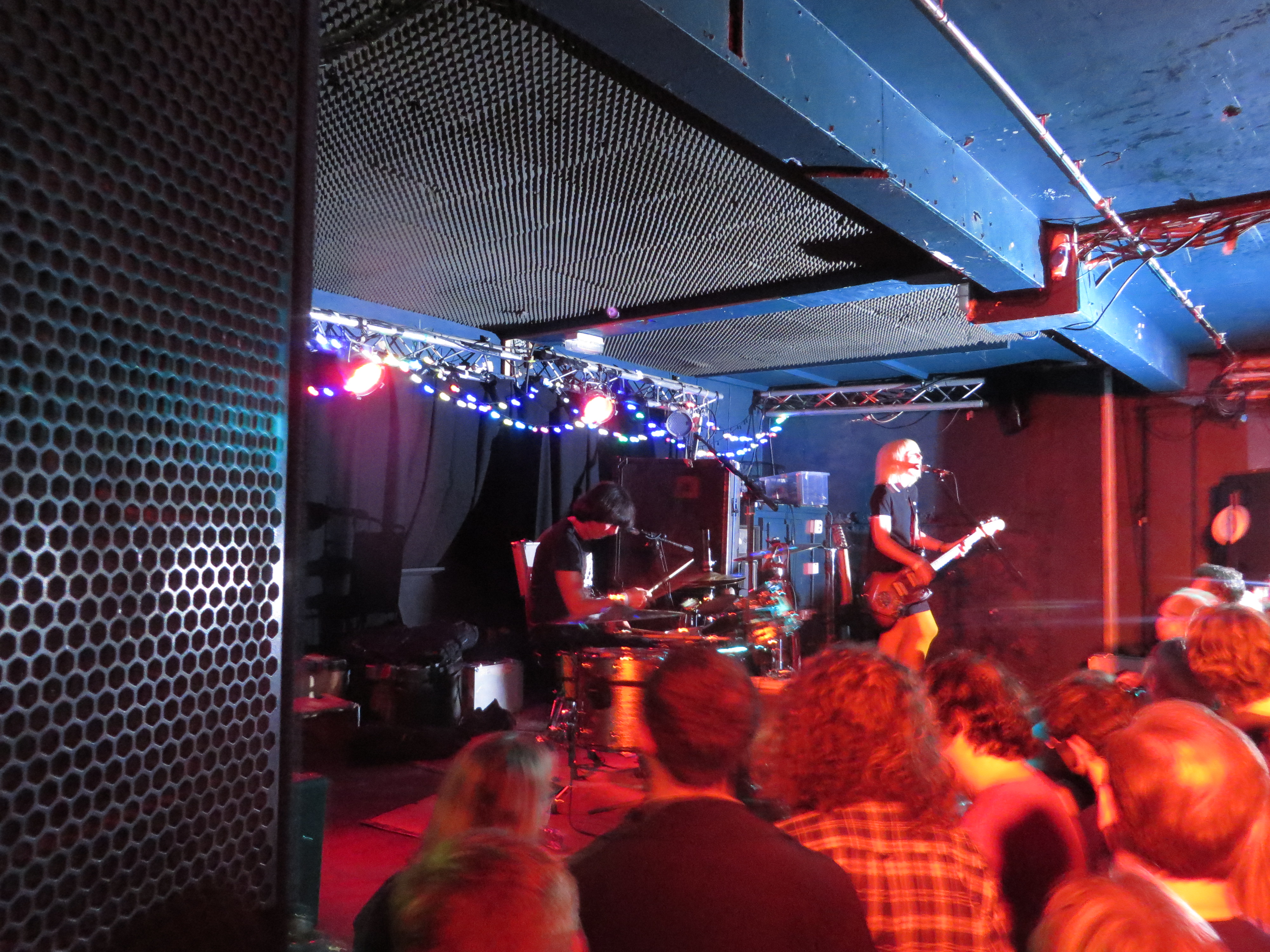 RunUp
Now and then we expect to go to a gig with the expectation of an enjoyably linear evening. One where everything is fine and grand and we have a nice time but nothing notably out of the ordinary takes place. This was not one of those nights. The Lovely Eggs have been on our radar since 2009 when we first went to see them under the advisement of The Shoracle at Ten Feet Tall in Cardiff, the night was tremendous and since then we have made every effort to attend their Welsh shows, firstly because they are an exceptional band who never fail to entertain and secondly they've always confessed an affinity with coming to Cardiff of which we feel should be respected, it's a mutual appreciation between audience and band which should be maintained and respected by all.
On this particular evening Arbiter Titan was due to attend with myself and Dee-Scripter a rogue agent of The Shonk. Sadly AT was unable to attend due to 'recital' reasons (he can be so cryptic) so I was accompanied by The Duchess (Of Earl) another Eggs fan. A few months ago we had caught The Eggs and Mr Ben & The Bens in Cardiff during their last tour, they were accompanied by Porky The Poet (Phil Jupitus) and as usual it was another tremendous night. With this in mind we were excited to be travelling across to Bristol to one of my favourite venues of the big city, The Exchange.
Given the sound guys (I think his name is Tim?) love of bass and ability to blend all sounds perfectly I knew the set was going to be epic, for many years I've coveted Holly's Selmer Bass & Treble amplifier and I was very excited to see how it sounded on this particular evening, I was not disappointed. Although I am getting ahead of myself now…
---
Mr Ben & The Bens
First to take to the stage was Mr Ben & The Bens a delightful band from Lancaster. They played an absolutely solid set in which no trumpets were squished (sadly an event which took place previously in Cardiff), we don't normally talk about band appearance but the four-piece were rocking some lovely tea-cosy esque hats and an assortment of smocks and paint covered overalls which alluded playfully to the idea that they'd just come out of an art/music studio after locking themselves in there since the last time we had seen them and perhaps they did. The set was absolutely solid and sounded immense, the preponderance of bass juxtaposed with Mr. Ben's immaculate 'high' voice (there's a word for it I'm sure) with all the nuanced bass, guitar, drums and keys delicately decorated about in each tune provided the perfect recipe and mix for the fluffy song cake that they served up to us. We noted that Mr Ben in particular seemed a little more relaxed or comfortable than last time, not to detract from the brilliance of the Cardiff show but there was certain improvement that comes with playing and practicing and all the stuff I don't do as a musician, this show was proof that it pays off.
I'll note at this point that How We Used to Write is The Duchesses' favourite tune whereas mine  is The Bluest Blues, I just love that cheeky little riff (almost math-rock influenced) and then the organ drops giving it an Elvis Costello sort of feel, or um… Vampire Weekend.. I don't like to make too many comparisons because the bottom line is that it's Mr. Ben & The Bens.
The new album is coming out, or has come out and it's called Happy Shopper, I could look it up for you but you should do it because then you'll buy it, it's out on Bingo Records which is a concept I wish I could sustain down here – a record label operating from a house as a community venture, what's not to love? If memory serves correctly the drummer of MRBATB is the King of it or something.
We highly recommend this band for your viewing and seeing pleasure and we very hope to see them again.
---
Rob Auton
It was nice to see that one of the support slots on this tour had been passed along to another poet, I find that sometimes it serves as a nice break between seeing three back to back bands but it's also good to see people of different musical and literary backgrounds supporting one another, although if you go to a poetry recital night it's rare that they bring a punk band for the interim slot, and if you DO go to a poetry recital and attempt to punk you are often banned as we have found.
After seeing Rob Auton perform and THEN reading some of the critical reviews provided by the likes of The Daily Mail… and I ask you at this point, how on earth is possible for The Daily Mail to attend The Fringe or anything remotely literary, artistic or liberal, what the fuck? They have no place there because they have no understanding of any of it. Wankers.
Anyway… sorry (AT will reprimand me for such digression) anyone observing that sparrows have their lives together more than themselves is a genius in my books, I mean for a start it's true and it's one of those observations that you wish you'd made yourself.
"My book is for sale out there, it's £10 and if you think that's a lot… you can save up" – Rob Auton
I found that his awkward almost reluctance to be on stage and address an audience to be highly entertaining. Far too often we are fed (not us personally as we have taste) immaculate and glossy performers, entertainers and jesters who embrace the stage and overact, play up to the situation.. Rob Auton does the opposite. I saw it as a gentle reminded that the audience does not own the performer and our assumptions of them prior to stage time shouldn't be what we lean on in certainty. Here was Rob Auton destroying all pre-requisites by being too apathetic to be awkward, too awkward to be nervous and too nervous to care, like a substitute teacher who knows his contract is up, he made no effort to control the crowd but rather, in an unspoken fashion directed his talent and skill to those willing to listen. Critics are wankers, anything they don't understand they assume is rubbish or they poke holes in it, we've no time for them. Rob Auton is great, buy his book.
---
The Lovely Eggs
No fucking about, Dave & Holly (Or Mr & Mrs. Eggs) were on stage like Strongbow powered bullets and caning out the hits before we had time to blink. I got all daft over that uhhhhhhmazing guitar sound (amp, I am coming for you) and the crowd which at this point we noticed was a seriously diverse mix of ages went totally mental.
There was a Pondie stood next to us, representing two of the greatest bands in the world with his T-shirt and his scarf, I forgot my scarf because I'm an idiot so I just stood next to his scarf each time he raised it!
Everyone was having a great time, Dee-Scripter was happy because there was a Harry Shearer lookalike having a right old jig in front of him. Then out of nowhere a bunch of balloons turned up and it felt like a low-cost attempt at recreating a Flaming Lips scenario which was hilarious to me because despite there only being 4 balloons on this particular evening, it was way better than Flaming Lips could ever hope to think to achieve (and I had a great time at that show)…
…then it got to a point in the set where it sort of went off on one, a bit unexpected like, but exciting because none of us knew what was going on and sometimes that is a great feeling. Holly had all kinds of vocal effects going on and I was trying to pick out what she was saying / singing over Dave's metronomical super drumming… guitar… plays… anyone? Who, what? What is she asking for?
'Are there really no women in here who play guitar' I finally heard her say as the effects eeked out. 'Holy shit' I began pointing at The Duchess 'woo, over here, look at this one' – 'what what what' Said TD. in all the confusion 'you play guitar!' I stated and as she realised that this was true, so raised her hand and was noticed by Holly who said 'come up here'.
Well shit. Didn't see that coming.
Up TD went onto the stage, around Dave, behind the big stacky speaker thing whereupon she was bestowed Holly's guitar and told 'can you play E… wait, not E… I'm a bit wasted, it's in D, you can use the wah if you like' and there it was, TD. on stage with The Lovely Eggs, whodda thunk it. Getting in the groove with Dave as Holly went all Lux Interior and climbed up onto the speakers making all hypnotic noises thanks to vocal delay.
The crowd in its entirety was mesmerised and whirling dervish to the cacophony of  the hypnotical music that was happening, I think if Holly hadn't eventually climbed down from the speakers and reclaimed her guitar we might all still be there now.
Once again, this exceptional duo had smashed out a set of whimsical, rockical, magical tunes that you'd think at least four people were playing at any given time, each and everyone of us had been blasted with the bespoke joy only these two can bring and once again we were all reminded of the power of 'Fuck It' – it's at this point you realise that they're more than a band, they're a therapy. A medical requirement to continue through the fog of modern life, now and then when things get too much you have to nip off to the side and experience some true to form Lovely Eggs psych punk, or if you're mind is that frazzled take it back to an earlier album and enjoy one of the lighter tunes about lemons or birds. There's something for everyone regardless of your delicate mental state and I reckon if you give them a listen you might ditch your depressants in favour. (Don't really do that, I'm not a doctor) But DO check them out if you haven't, which should be a crime by now.