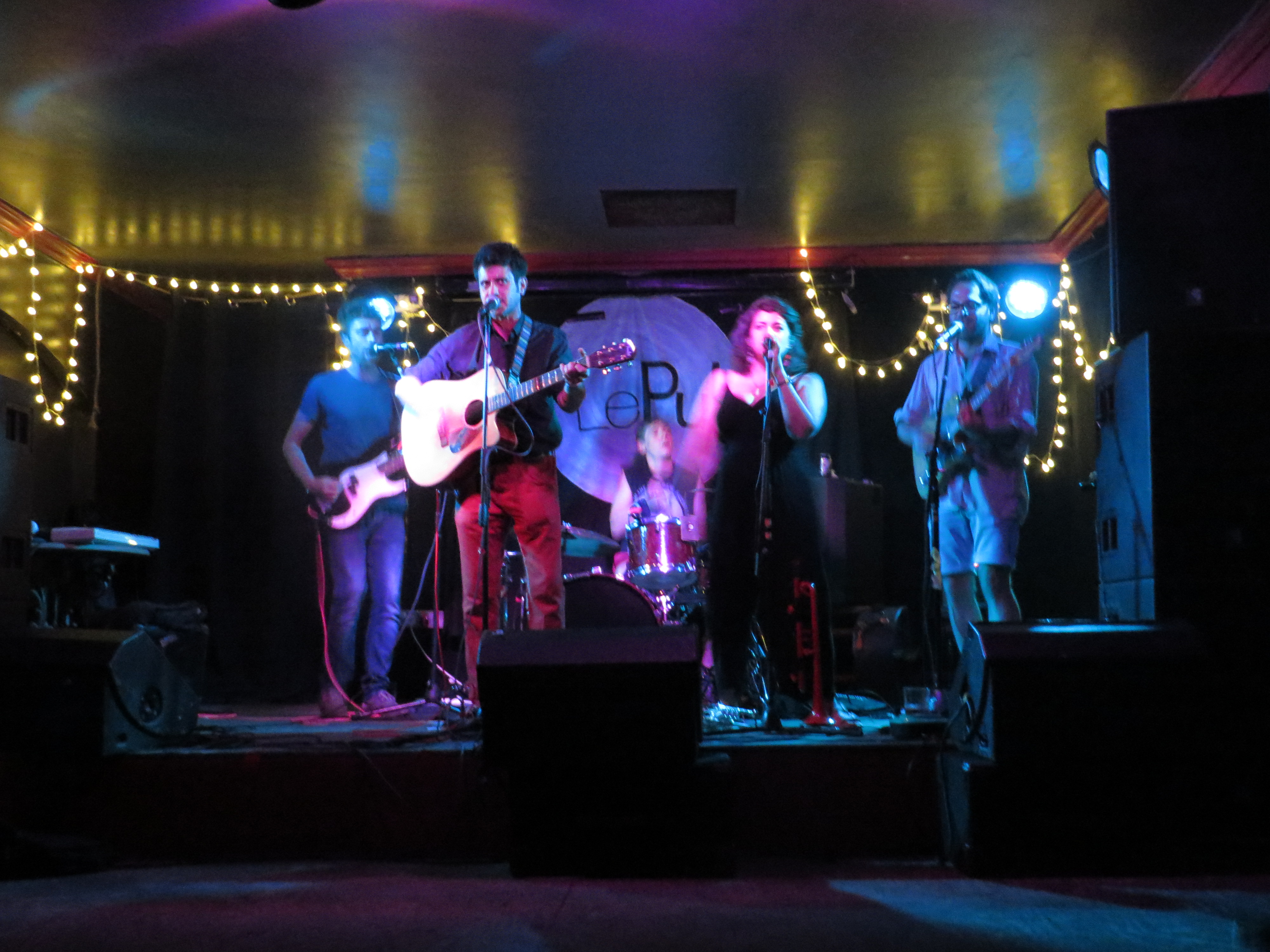 Bringing us back to home soil and deviating to an entirely new arena of anti-folk was none other than one of our favourite Cardiff Indiearchi bands (or Marindie) Quiet Maurader. In fact I daresay they are one of our all time favourite Cardiff bands with exception to maybe… MY NAME IS IAN. (I jest of course, both on par.)
In fact, both bands sit on the chart here at my Shonk desk as 'most seen bands ever' ranking about 6/7 times! In fact, the only reason I know about either is through my love of The Burning Hell, so without a doubt the cosmic Canadian theme of the night was well maintained, I think QM and MNII only ever play alongside Canadians maybe? Perhaps it's their secret to longevity, either way I hope they carry on with it because I love them both and never tire of watching them.
As usual QM were on brilliant form which was admirable because I seem to recall them being at Le Pub for some time prior to the gig starting and were in a slightly merry state upon climbing the stage and I wouldn't have it any other way!
What followed was a repertoire of some of my favourite love songs with delicate nuances and profound messages, all based on the fascinating life of apparent doctor and egg fanatic Simon. There are a couple other cross over characters in the band including Ian from MY NAME IS IAN (He's not actually called Ian but it sort of stuck here since the first time we saw them, sorry if you're reading this Ian/notIan) and Francesca who is Francesca's Word Salad, another fantastic Cardiffy anti-folk performer that wears hats and I'm sure I remember puppets!
'Eggs eggs, eggs eggs eggs eggs eggs, eggs eggs eggs eggs eggs, eggs eggs eggs eggs…' – Eggs, Quiet Maurader
All comedy aside they're a fantastic band that perfectly blend indie and mariachi with witty, dry and darkly humorous songs about business deals, disgusting men, chasing women in the woods and growing a moustache. (I still have my Bert Reynolds mask from the first gig because as a trinket) – with such an extensive plethora of themes constructed with two unlikely musical genres what isn't to love?
Nothing, that's what.
Oh and if anyone knows about cutting cards and cardestry please get in touch with the band's bassist because he's getting well into it, we had a lovely discussion about it!
So go and see them!
Read part four here