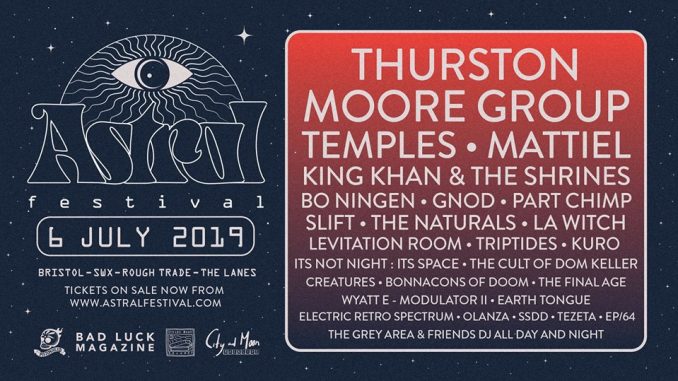 If you're a regular reader of The Shonk you will know that we don't say anything that we don't mean, so understand us when we say that if you haven't bought your tickets for Astral Fest 2019 you're a buffoon!
What? ASTRAL FEST 2019
Where? BRISTOL, NAMELY THE LANES, SWX & ROUGH TRADE
Time? ALL OF THE 6TH JULY FROM 1300HRS UNTIL YOU PASS OUT
Who? ONLY THE BEST PSYCH, NOISE, GARAGE AND GRUNGE BANDS EVER! 
Will there be lots of drop tuning? OH YOU FUCKING BET! 
The re-branded Psych Fest takes place in Bristol on the 6th of July and is split between three great and very different venues; The Lanes, Rough Trade & SWX. The Lanes offers high end pizzas, a traditional bowling alley and a stage with great sound and a plethora of vantage spaces. In the addition to the back-to-back bands that will be taking to the stage you'll also have the added benefit of the non-stop DJs performing in the Grey Area which is the courtyard to The Lanes. Rough Trade can be a dangerous place, I rate it as evil because anyone who puts a venue and a well-stocked record shop AND a coffee shop together is an evil genius (See also, The Exchange) – Rough Trade has proven itself as a universal provider of performances by accommodating bands and performers across the noise spectrum, from Aidan Moffat to Bad Pelicans, their stage has seen it all and I've heard it all.
SWX has something quite unique that I really appreciate on days like Astral Fest, as it's up stairs they've linked the monitors up through the stairwell meaning as you ascend the music gets louder and the higher you get the more the floor vibrates. It's like you're being birthed into the musical experience which is a fantastic feeling. SWX is the largest of the three venues, it offers a huge sound but you won't get the same level of intimacy as the other two venues – but when you're absorbing as much filthy psych as is on offer things like that really don't matter.
A stone's throw from there is SWX and Rough Trade so the triangle of venues is very small, this makes it great for darting and dashing between multiple acts if there happen to be any clashes. When the music is this high of quality clashes can occur but with some itinerary tightening and a good game plan you'll be able to make it around to see and hear dozens of great bands.
Click HERE to read and watch videos of last year which, was one of the greatest days in Shonk history.
This year the itinerary of the day is as follows: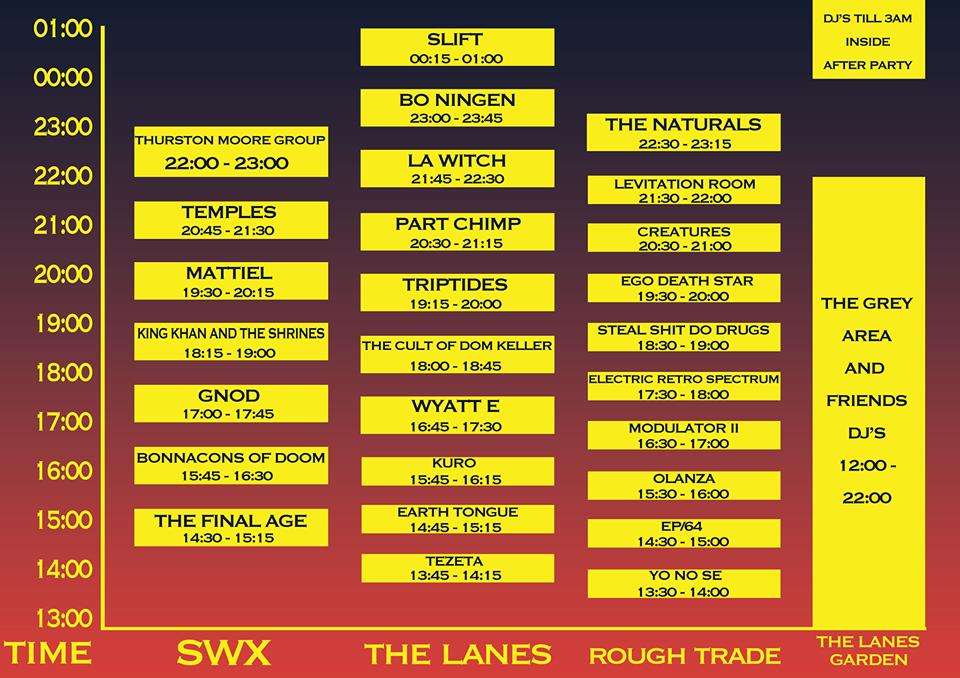 As you can see from the itinerary your eyes and ears are in for some delightful treats this year, we are chuffed to see the return of Slift, the super-charged psych-trio from Toulouse – They are not to be missed, ever. In fact, get this video of them into your mind brain, that should convince you to come on its own:
Watched it? Good, buy your ticket here.
In addition to Slift there are a more bands that I've scribbled a little star next to on my itinerary (or at least I will once the Arbiter has printed them off) I'm excited to see what EP/64 will bring to the table, last time I was the improvised threesome of aural terror there was a human ring of death around them whooping and screaming with delight as two instruments and a microphone were murdered with more modern world angst than one could possibly fit in a room. Their Soundcloud recordings sound like some of The Holistic House Band's sessions – Shit yeah I am excited!
One thing that I am chuffed about is that Yo No Se is going to be throwing us in the deep end as one of the first bands on. Trust me, this is a great strategy, last year we eased in with Dubi Dolcek and then got our asses handed to us by Slift, the first couple of acts are crucial for setting the mood and the momentum of the day, I mean, just look at them:
there's a good chance that I may keel over and die by the time we get to see Bo Ningen, who for the record is an unstoppable force of beat-reliant super Psych, if you trawl through my Green Man dissertation you'll find a top video (if I do say so myself) of their performance, I'm not linking it because it's about time you did some work.
Found it? Good, buy your ticket here.
I've only begun to scratch the surface of how quality the day is going to be, I don't want to oversaturate you with videos and descriptions but if you've not heard of GNOD that's another good reason to attend because not knowing GNOD makes you a buffoon!
Temples have been on my 'see list' for some time and if anyone was going to aid me on this quest it's those wonderful folk at Stolen Body Records – SBR have not only exposed us to some incredible music over the last year but they've also created some memorable evenings for us. To us, a gig isn't just about going into a dark room and having our ears blown out (although that is a big part of it) it's the entire experience, from the qwerky venues to the interesting people we meet, from the intricate ticket art to the like-clockwork odd-ball who asks us for a lighter and then starts dancing and telling us they are God. All of these wonderful little moments are what make a day like Astral Fest, you'll be talking about them for years to come and each time you do you'll be reminded of the high quality tinnitus you endured and how it was absolutely worth it. In fact, we wish to thank everyone involved with this event, we understand it's a lot of work and we're so grateful that you all put that work in so that we can get off our faces on sound waves!
Convinced yet? Good, buy your ticket here.
I mean, by this point if everything I have said hasn't won you 'round and the Thurston Moore group hasn't won you around, I don't know what will… I guess if you spot me on the day and come say hello I'll give you a free badge. Surely that's done it?
Good, buy your ticket here.